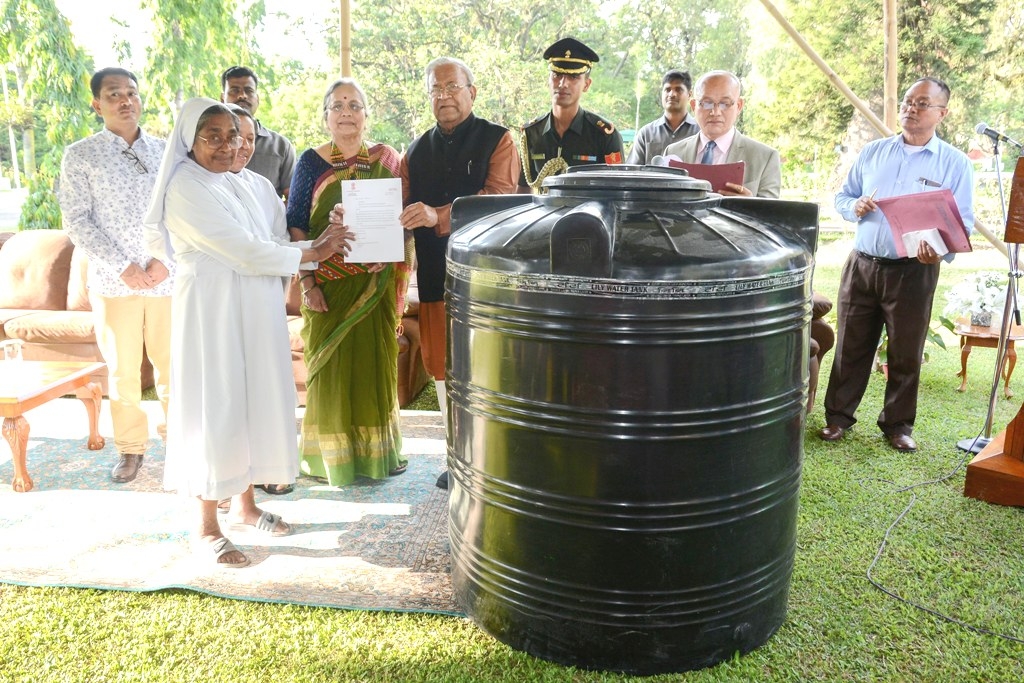 DIPR
Imphal, June 29,
Manipur Governor  Padmanabha Balakrishna Acharya today distributed 1000 litres capacity Water storage tanks to the beneficiaries of Orphanage and Old Age Home for the purpose of rain water harvesting  at a function held at Raj Bhavan, Imphal.
Speaking at the occasion, Governor  PB Acharya said that in line with the appeal made by the Chief Minister to conserved rain water, Raj Bhavan has taken up the initiative to promote rain water harvesting by distributing the water tanks. Proprietor of Classic Hotel has kindly sponsored 40 nos. of  1000 litres tanks for distribution, added, Governor.
He further stated that if we want to strengthen India, the weakest be strengthen and empower those unempowered. Unless we preserve water, life will be very difficult. Water is life, save water for sustenance of the future. God has blessed us with rain, therefore, we should conserve water and used it judiciously. He encouraged the beneficiaries to set up water tanks and harvest the rain water to address the water scarcity problem in the state.
Some of the beneficiaries who received the Water storage Tanks are, All Manipur Senior Citizens' Welfare Association, Mahila Kalyan Samiti (Dewlahland), All Manipur Mentally Handicapped Persons' Welfare , Meitei Leimarol Sinnai Sang, Sneha Bhawan De-addiction Centre, Organization for the Underprivileged Group, Tabitha Children Home (Mantripukhri) and Destitute Children Home (Sagolband).
Altogether, 40 tanks will be distributed including 5 nos. for the Ima Keithel.