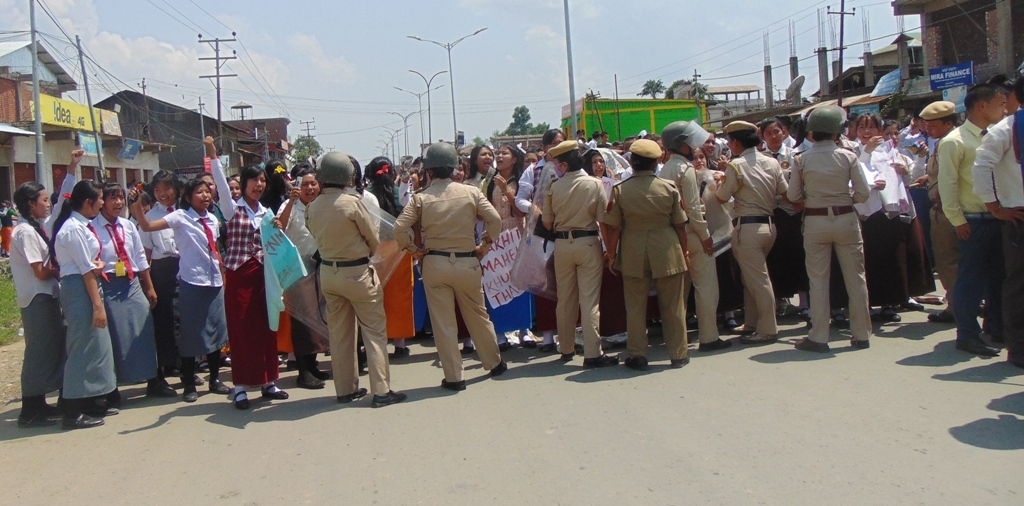 Coming out with strong reservations over yesterday's 'brutal' police action on girl students at Keishampat on Sunday, Emas of various civil bodies have decided to lend support with Students' Wing of JCILPS to intensify the ongoing protest demonstration.
Ph Sakhileima, President of Apunba Manipur Kanba Ima Lup (AMKIL) alleged while addressing a group of media at Keishampat office of JCILPS that the state government is the custodian of non-locals. "They couldn't bear to see any non-local in sorrow."
When the students are coming out of schools demanding the government to implement Inner Line Permit System, the legislatures are worrying about Imphal Municipal Corporation Election, said the women's leader.
RK Sanahanbi, President of Kanglei Ima Lup also said that they will continue their protest until the demand for ILPS is achieved.
One innocent student- Sapam Robinhood was killed and many are continuing to be injured owing to brutal police action. The conduct of the government is inviting for another June 18 incident, she said.
Representatives of AMKIL, Poirei Leimarol, Women Welfare Organisation Kangleipak, Nupi Samaj and Nongpok Leingak Apunba Lup who were present at the meet also endorsed the stand to intensify agitation.