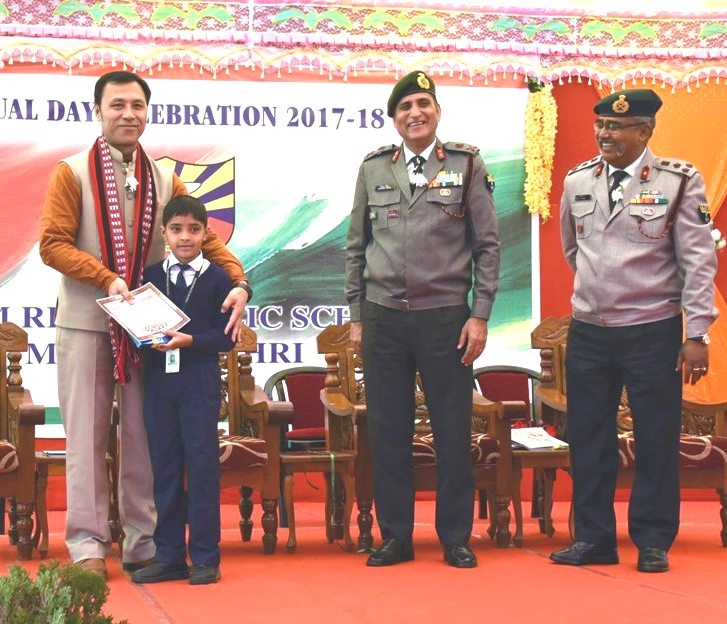 DIPR
Imphal, Jan 31: Education Minister Th. Radheshaym said that objective of education is not just literacy but is also to create opportunities for others. One must pursue education not just to get Government jobs but to create jobs and opportunities for others as well.
He was speaking as Chief Guest at the Annual Day Celebration 2017 – 2018 of Assam Rifles Public School, Mantripukhri IGAR (South). He appealed to the educated people to become entrepreneurs which will provide job opportunities for others. The Minister said, one must identify and prioritise the problems and bring a viable solutions.
He said that, education is the key to find answers to all the problems and must have a holistic approach to nurture the young minds – the future of nation so that they are capable to solve the problems in the society. Minister Th. Radheshaym said education imparted today should be relevant.
Describing the family as the first and foremost place where a child receives informal education the Minister said that a child learns the most essential lessons of life in the family. He said life is the best school and experiences as the best teacher. The students should be provided with an all inclusive approach towards education to prepare them to learn to live a meaningful life and also to let others live a meaningful life, he added.
He lauded the Assam Rifles for their contributions in the field of development of the North East States and for extending all possible help in times of natural disaster and in maintaining peace in the region. Th. Radheshyam said it also gives immense pleasure to learn that the Assam Rifles has also been providing education with an all round approach, in the nook and corner of the state, facilitating with lodging for the special need students.
Major General Virendra Singh, Brigadier RK Singh, Principal, officials, teachers and students of the school attended the ceremony. Prizes were also distributed with presentation of vibrant and colourful cultural programmes by the students as part of the Annual Day celebration.