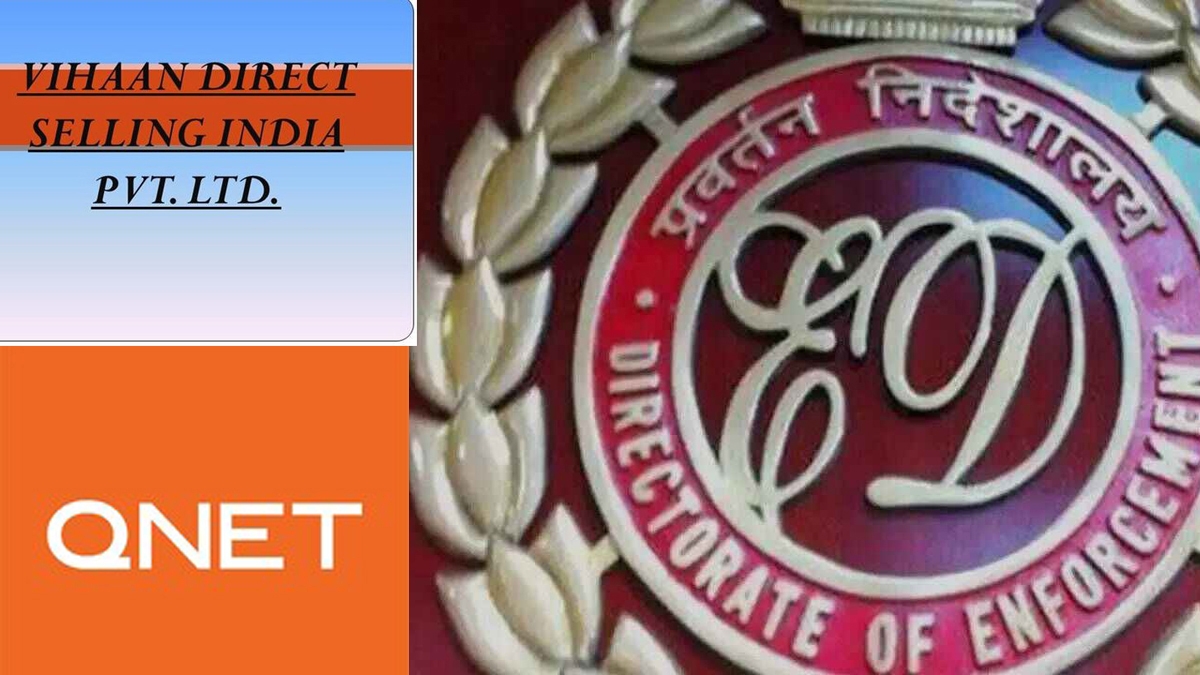 By Raju Vernekar
Mumbai, January 23
The raids were conducted by the Directorate of Enforcement (ED) recently at various locations of M/s Vihaan Direct Selling India Private Limited (Vihaan), the master franchisee company of M/s Qnet Ltd, in Mumbai, Bengaluru, and Chennai on charges of money laundering.
The search operations on January 17, were carried out at 05 locations at Mumbai, 02 locations at Bengaluru and 02 locations at Chennai. During the searches, various incriminating documents and digital devices were seized. Further, 36 bank accounts amount involving more than Rs.90 Crore relating to various companies connected with the case were freezed, an official note read. Vihaan is based in Bengaluru.
Although as per the FIR registered by EOW of Mumbai Police, total estimated proceeds of crime is about Rs. 400 crore, during the course of investigation ED observed that over Rs. 2000 crore were routed by way of opening various shell companies by Vihaan.
In 2014, ED had registered an FIR under money laundering act (PMLA) estimating a Rs 425 crore scam and had named QNet Ltd, its official franchisee Vihaan, Vijay Eswaran, the founder of QNet group and three other independent representatives from Mumbai. ED initiated money laundering investigation on the basis FIR registered by EOW earlier.
In the same year, the EOW, while opposing bail applications of seven in the QNet scam. had told the Bombay Sessions Court that the accused-including former world billiards champion Michael Ferriera, Srinavas Rao Vanka, Magarlal Viravali Balaji, Malcolm Nozer Desai, Navjyot Mahesh Das, Chinar Surendra Shinde and Mereilla Kamal Dutta misled the court by submitting a fake document.Besides, the police officer, under whose name the document was submitted, had denied having prepared any such document.
On May 06, 2016, the Bombay High Court, while rejecting anticipatory bail applications of five accused, had observed that the deceit and fraud was camouflaged under the name of e-marketing and business. The bail applications of five including, Srinivas Rao Vanka and Magaral Veervalli Balaji, both directors of Vihaan, Suresh Thimiri, director of Transview Enterprises India Pvt Ltd, Malcolm Nozer Desai (who is a 20% stakeholder in Vihaan) and Michael Ferreira( an 80% stakeholder in Vihaan) were rejected by the court. Although he owned the "QNet" trademark in India through his company Transview Enterprises Pvt Ltd, Thimiri had denied any relationship with QNet.
In August 2019, the ministry of corporate affairs (MCA) and the department of consumer affairs under the Union ministry of consumer affairs initiated the filing of a winding-up petition against Vihaan and issued lookout circulars (LOCs) against 12 persons including Guhan Ramachandran, MN Gunasheela, Subha Thulasiram, Vanka Srinivasa Rao, Balaji Magaral Veeravalli, Premdas Ramunni Kurup, Kantha Vijaya Sarathi, Muhammad Imthiaaz, Malcolm Nozer Desai and Michael Ferreira.
Subsequently the registrar of companies (RoC), Karnataka, after inspecting the books of Vihaan had revealed the company's fraudulent activities with the intention to dupe investors and filed a winding-up petition against the company under Section 271 of the Companies Act before the national company law tribunal (NCLT)'s Bengaluru bench.
It was revealed that the Vihaan had floated various shell companies and dummy proprietorship for routing the funds received from a large number of investors. Besides the company duped gullible investors by investing their hard-earned money in the Ponzi schemes, by assuring them quick and heavy returns.