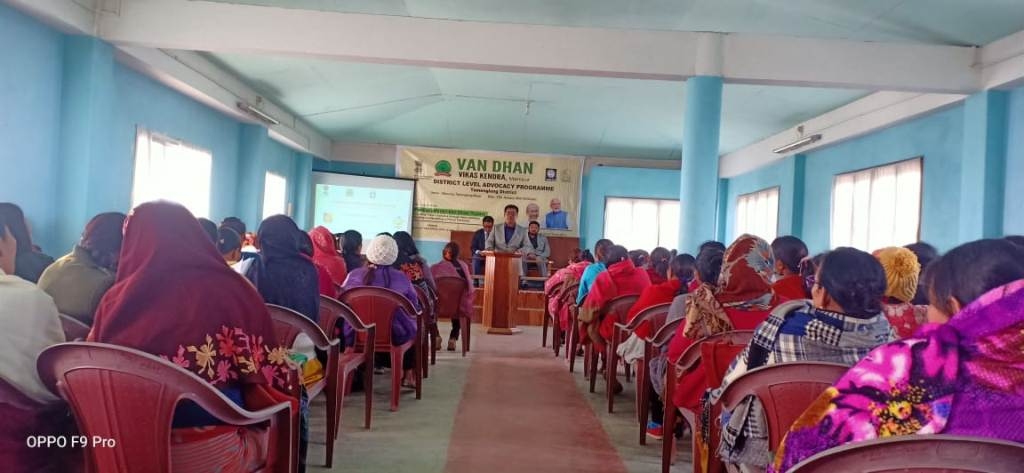 IT News
Tamenglong, Jan 28
District Level Advocacy program "Pradhan Van Dhan Yojana" for Tamenglong district under the initiative of Ministry of Tribal Affairs and TRIFED was held at Siknu Inn, Tamenglong headquarter.
Armstrong Pame IAS, DC, Tamenglong and Arun RS, IFS, DFO, Tamenglong attended as Chief Guest and President of the program.
Speaking at the program the chief guest stated that as this schemes or loan system granted to you will change the way we live, let us all take keen interest in implementing this scheme successfully. He also further stated that self help groups consisting of 15-30 members will be able to do a business of 8-10 lacs rupees in a year from Tamenglong district alone the self help group will be able to a business amounting to 1crore rupees annually.
Since there is a high demand of organic food items (fruits and vegetables) in the market the concern department will provide latest machines and infrastructure to meet the demand. As for the marketing is concern the self help groups need not worry as TRIFED will all do the marketing added Armstrong Pame.
Arun RS presented a power point presentation about the objective, processing of Forest Produce, marketing plans etc. To the self help groups who attended the program yesterday.
The Van Dhan Scheme is an initiative of the Ministry of Tribal Affairs and TRIFED. It was launched on 14th April, 2018 and seeks to improve tribal incomes through value addition of tribal products.
The scheme will be implemented through Ministry of Tribal Affairs as Nodal Department at the Central Level and TRIFED as Nodal Agency at the National Level. At State level, the State Nodal Agency for MFPs and the District collectors are envisaged to play a pivot role in scheme implementation at grassroot level. Locally the Kendras are proposed to be managed by a Managing Committee (an SHG) consisting of representatives of Van Dhan SHGs in the cluster
Under Van Dhan, 10 Self Help Groups of 30 Tribal gatherers is constituted. The establishment of "Van Dhan Vikas Kendra" is for providing skill upgradation and capacity building training and setting up of primary processing and value addition facility. They are then trained and provided with working capital to add value to the products, which they collect from the jungle. Working under the leadership of Collector these groups can then market their products not only within the States but also outside the States. Training and technical support is provided by TRIFED. It is proposed to develop 3,000 such centres in the country.
Altogether about 120 Self Help Groups President/ Secretary selected for the Scheme attended the advocacy program.