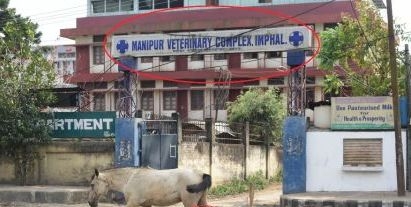 IT News
Imphal, Jan 22
Irregularities and discrepancies in promotions have marred the Veterinary Department of Manipur according to a complaint letter submitted to the Chief Minister, Veterinary Minister, Chief Secretary, Commissioner and Secretary of MPSC.
Veterinary Department's promotion rules were changed in 2012 and were published in gazette notification dated 18/11/2013. However, the change in the rules took place without any notification inviting claims, suggestions or objections from the officers working in the department. Without consulting the officials of the department, government changed the qualification essential for the post of Deputy Director of the department and amended the service rules. In February 2014, a DPC was conducted to fill the vacant grade III post of the department.
While the DPC of 41 posts was going on, a promotion order bearing no. 4/4/99- VETY (Pt.1) dated 18/02/2014 was issued for 40 posts. The promotion order was given before the completion of DPC.  Further, there are discrepancies in the order as there is a mismatch between the order and the recommendations made by DPC selection committee. First, DPC selection committee recommended Dr. W Tomba Singh as Specialist Medicine but in the order Dr. Rosoraj was promoted as Specialist Medicine.  Second, Dr. O Debola was promoted under the new service rules of 2012 to Deputy Director Statistics. Third, four officers have been promoted in the order who were not recommended by the DPC selection committee. Given these irregularities, the vigilance department took up a case against the department bearing the case number 5/SP-V/2014.
While the vigilance department was inquiring the promotion, another order dated 28/02/2015 was released by the Veterinary department by conducting the DPC on the same date. The said order promoted Dr. M Dilip Kumar to the post of Deputy Director. However, Dr. M Dilip Kumar retired on the afternoon of the day the DPC of his promotion was conducted. And, his promotion order was released without MPSC's concurrence letter.
Dr. T Indumati Devi was given promotion in December, 2017 from the post of Assistant Livestock Development Officer (ALDO) of the Veterinary Council to Deputy Director of Veterinary Department. However, Veterinary Department is not under the state government wholly. Veterinary Council comes under both central and state government. Given these discrepancies and irregularities, a caveat petition was filed challenging the promotion. Finally, vigilance department filed a second case, bearing number 4/PE/SP-V&AC/2018.