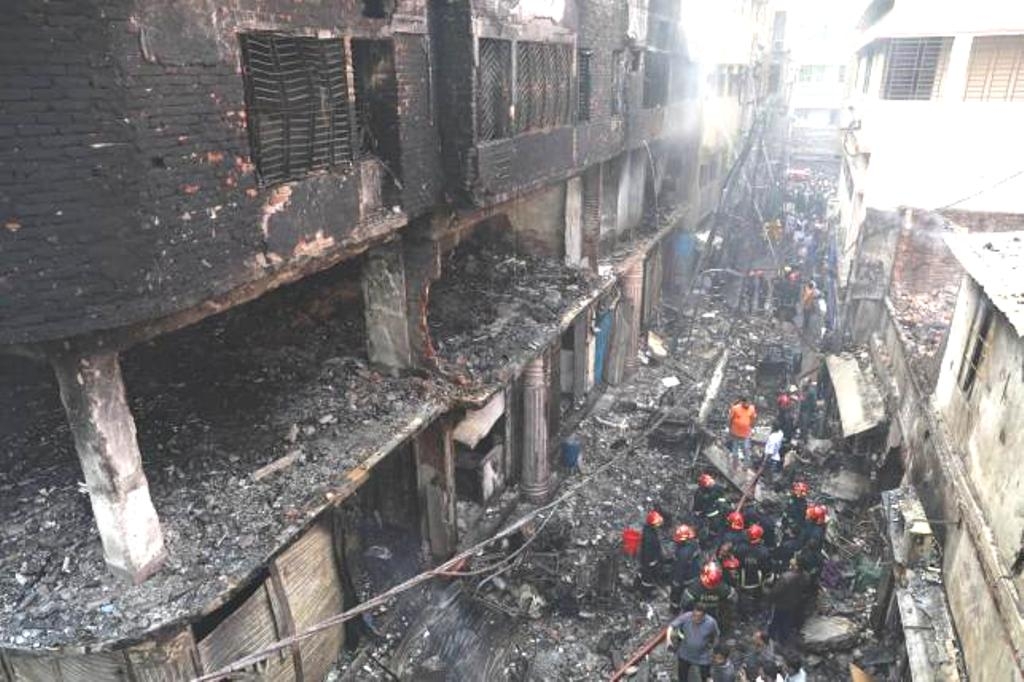 By – Siam Sarower Jamil,
Dhaka, Feb. 11,
At least 70 people were killed and 55 others injured as a deadly fire broke out in a densely populated residential area at Chawk Bazar in old town of Dhaka, the capital of Bangladesh on Wednesday midnight.
Major AKM Shakil Newaz, director (Operation and Maintenance) of Fire Service and Civil Defence, at a press briefing on the spot told Imphal Times that a total of 70 bodies were recovered from the buildings.
Earlier, Bishwajit Kumar of Dhaka Medical College police outpost said 65 bodies reached to the morgue of the hospital till 8:00am (Thursday) Among them 57 are male, five female and three children.
He also said 55 injured people are admitted to the hospital and among them 18 are in burn unit and 37 are at the emergency unit.
Dhaka South City Corporation mayor Sayeed Khokan announced closure of rescue operation at Churihatta at about 12:40pm.
The mayor said the city corporation will strictly implement ban on setting up chemical warehouse and illegal factories in Old Dhaka.
Brigadier general Ali Ahmed Khan, director general of Bangladesh Fire Service and Civil Defence, earlier confirmed 45 deaths and said the number might go up as the fire fighters were still working to bring the flame under control. 'We're still searching different floors of the affected buildings,' Khan said.
Among the injured, at least 16 people sustained burns while 30 others were injured while trying to escape the fire.
Fire service control room said that the fire broke out following an explosion at a chemical warehouse housed in a five-storey building at Churihatta around 10:45pm.
The fire immediately spread to another adjacent building as 37 units of fire fighters rushed the spot to contain the fire till 1:45am.
Primary reports quoting locals suggested that the fire followed an explosion.
Television channels live telecast vehicles burned down in the fire.