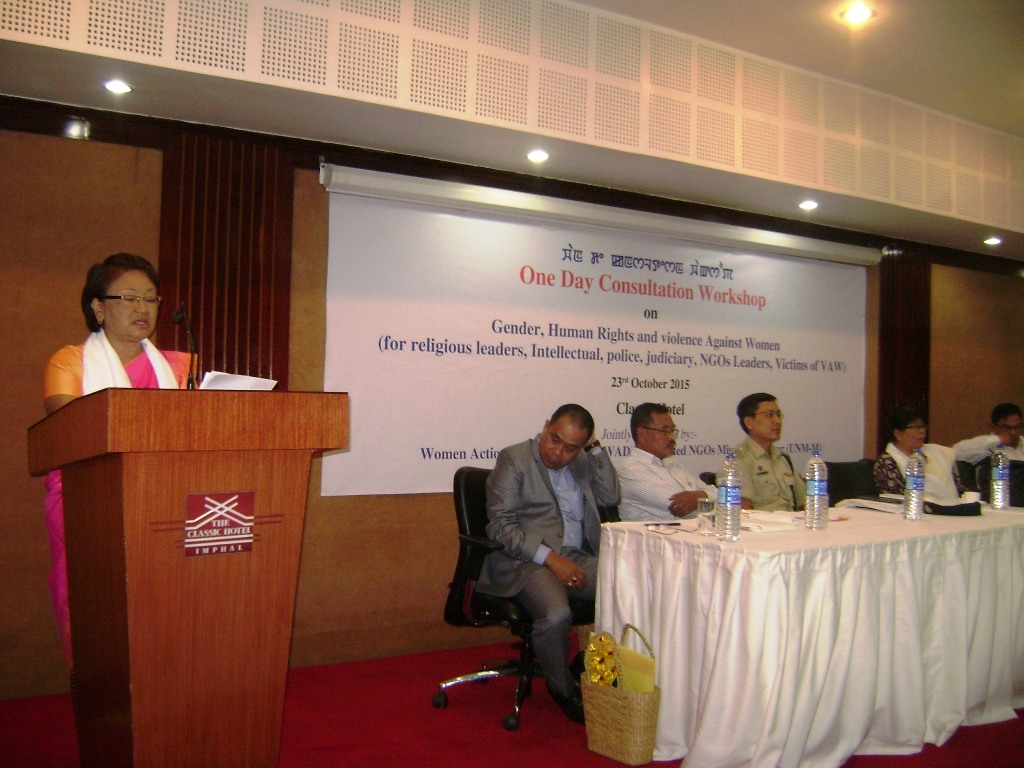 The number of crime against women has drastically risen from 165 to 316 during 2011 and 2014. As per record from Local Newspapers, the number has slightly decreased in 2015 with 207 cases of crime against women, perhaps the year is yet to end. As per the report, missing women was the highest reported case (284) in the last five years followed by cases of physical assault or causing injury, (194) and then followed by rape case numbering 165 during the period.
Dr.AK Jhalajit (IPS) SP, Imphal West highlighted the importance to discuss the matter analytically. Participating on the One Day Consultation Workshop on Gender, Human Rights and Violence Against Women held today at Classic Hotel, Jhalajit said, whether the rate has been risen as per rise with population or it has rise vertically is to be discussed. He said that the number has risen as more cases has forwarded to report with the rise of legal awareness level among common men.
During the discussion, the SP stressed that empowering women and weaker sections is closely related to social structure of a society. He said, mostly women after marriages up to 7/10 years are highly prone to domestic violence. There is need to empower or enact certain laws to safeguard women during the phase. 
While, U.Nobokishore, Secy.United NGOs Mission Manipur (UNM-M) stressed the need to reform the Criminal Justice System and Corruption in reforming Manipur towards a better society. The present Manipur Government is not convinced to reform the current Criminal Justice System. The Govt. is afraid of consequences while reforming the changes. But he said UNM-M will approach to CM and will move at National and International level.
He appealed general people not to believe falsely that the system is impossible to change, he encouraged that there will be mechanism to change the present unwanted system with public movement.
Prof.N Pramodini, Department of Linguistics and also Director, Women Study Centre, Manipur University, Khunmanlambam Binoy, senior Advocate, President, High Court Bar Association Manipur, Dr Sadhana, Epidermatologist, State TB Hospital and Wangkhemcha Shyamjai, President all Manipur Working Journalist Union (AMWJU) also took part in the consultation workshop which was jointly organized by United NGOs Mission Manipur (UNMM) and Women action for Development.