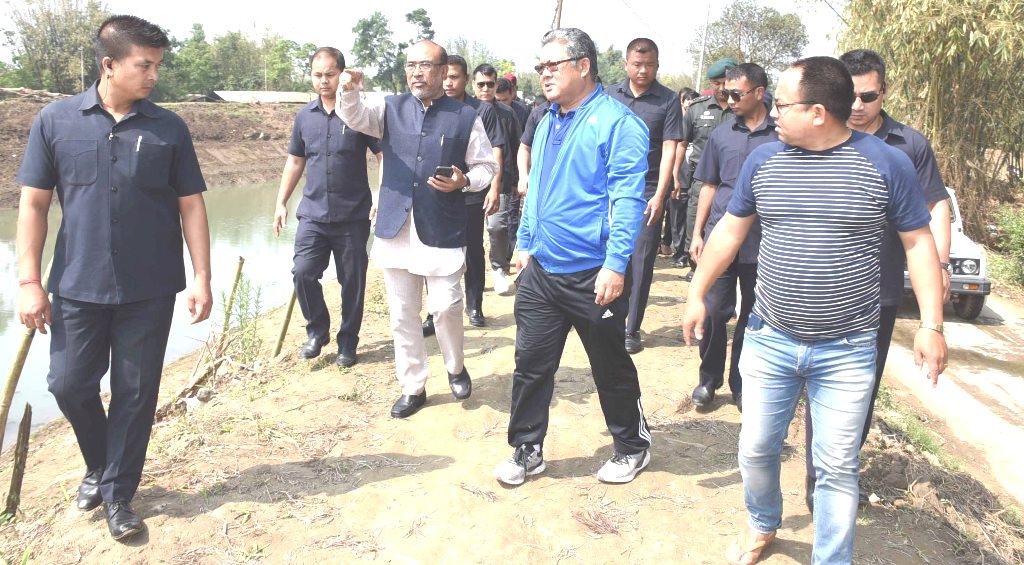 DIPR
Imphal, April 11
After the inspection of the dredging work being taken up along the Imphal River from Koirengei to Moirangkhom yesterday, Chief Minister  N. Biren Singh alongwith Water Resources Minister  Letpao Haokip and Revenue Minister  Karam Shyam continued their inspection of the dredging work from Haoreibi Makha Leikai to Kyamgei area today.           
They were accompanied by MLA Yaiskul AC  Thokchom Satyabrata, MLA Keirao AC  L. Rameshwor, DC Imphal West Ningthoujam Geoffrey, Chief Engineer of Water Resources  Ksh. Pritam and other high ranking officials of the State Government.  
Speaking to the media persons, Chief Minister said that 70 percent of the dredging work is completed till now and the remaining work would be completed before the onset of rainy season. He stated that it is indeed happy to see that people are voluntarily dismantling their properties which are being constructed along the river banks. The government acknowledge such co-operation and support of the people to the initiative, he added. Chief Minister appealed the people to extend their love and support to other developmental initiatives of the government being undertaken in the State. He mentioned that dredging work of various rivers such as Kongba, Nambul, Thoubal would be started soon.  
On the occasion, Chief Minister shared his happiness over the news that the acclaimed boxer Mary Kom has entered the final in the ongoing Commonwealth Games being held at Gold Coast, Australia. He stated that it is also indeed happy to learn that the Indian Hockey team has entered final in CWG 2018. On behalf of the people of Manipur, Chief Minister gave his warm wishes and blessings to the team India to achieve more medals and bring laurels to the country.
Speaking to the media persons, Minister for Water Resources Letpao Haokip appealed the people to have some responsibility and civic sense and stop throwing garbage/wastage into the river.