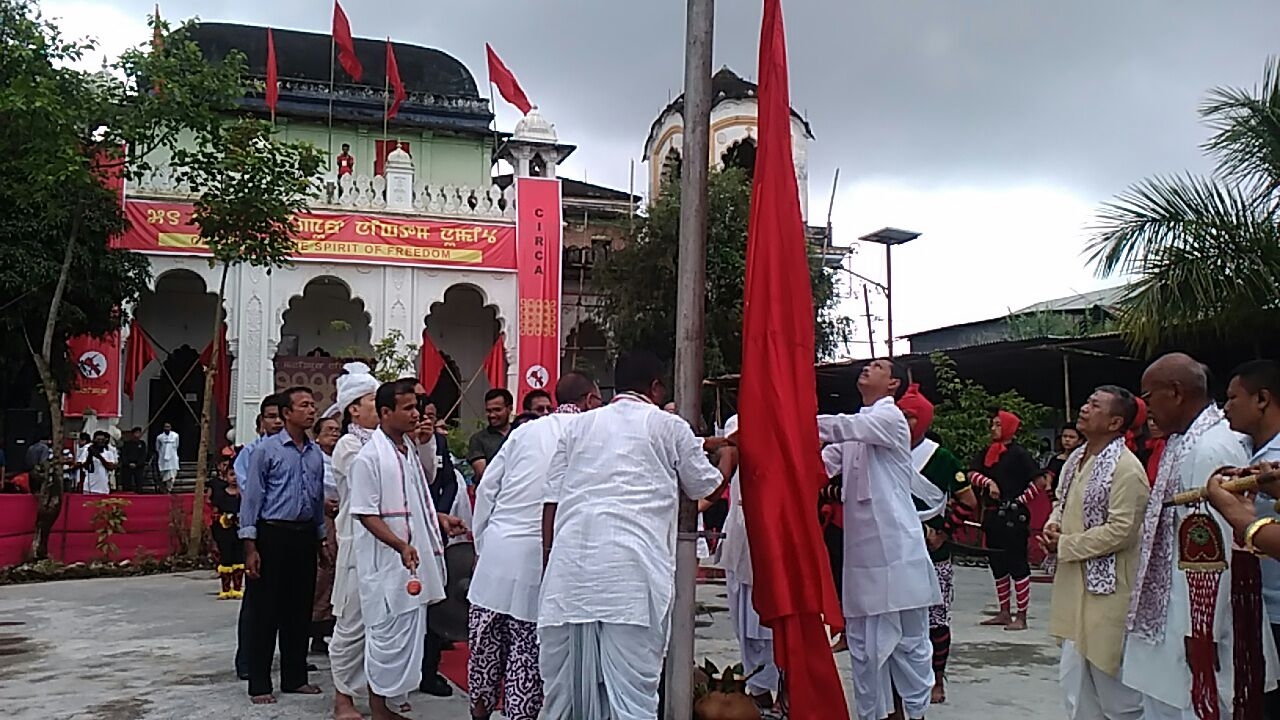 Imphal, August 14: 71st Manipur Independence Day from British Colonisation observed today at Sana Konung at Palace Compound, Imphal.
The observance was organised by The Coalition of Indigenes' Rights Campaign (CIRCA) Manipur to mark the event of the Independence Day which was attended by various civil organisations and student unions'.
On the observance of the Manipur Independence day, CIRCA announce its intention to start a campaign named as "Yakei Khongjang" to led Manipur restates its pre-merger political status.
Titular king Leishemba Sanajaoba who graced the observance as functional President formally opened the function with the hoisting of a red flag decorated with the image of Pakhangba (Meitei deity) in gold at the centre in the Sana Konung which was also hosted in the history by the Late King of Manipur Meidingu Bodhchandra Singh in August 14, 1947.
Speaking to the media persons, Ningthouja Lancha, Spokespersons of CIRCA said that a campaign against the present suppression of Manipur Culture under the influence of foreign culture, cultural decolonisation and spiritual etc will be initiated.
Ningthouja Lancha also said that to restate the pre-merger political status, a village to village campaign "Yakei Khongjang" will also be held, recalling the event of September 21 the merger agreement day, national repentance day, October 15 the black day merger agreement and October 18, the day when Manipur Legislative Assembly was formed.
Ningthouja Lancha further said that the main objective of today's observance is that the state government must declare August 14 as Manipur Independence Day and to observe it every year.
CIRCA has initiated the observance of Manipur Independence Day for the namesake at Sana Konung since 2016, strongly believing in making the people aware of the history of Manipur associated with the event of August 14, 1947 to be the only means of ending any issues in the state.
Mention may be that, CIRCA has been conducting various discussion programs since 2015 on issues related with the incidence occurred in Manipur's history between the years 1947 to 1949 during the British Colonisation in Manipur.