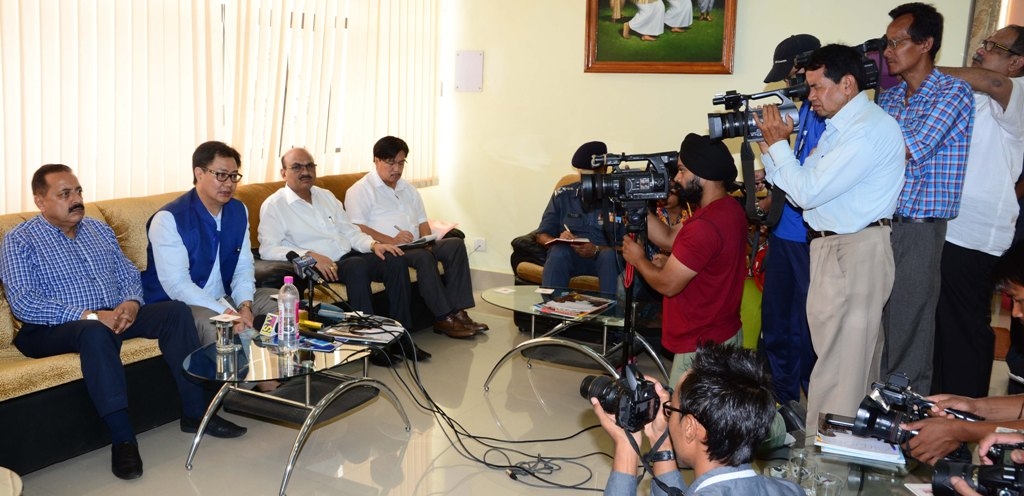 Union Home Minister of State Kiran Rijiju and DoNER Minister Dr. Jitendra today said that the center will release Rs. 8.5 crore as immediate relief for the damage cause by the flood in the state. The two Union Ministers announced this while speaking to media persons at Imphal Tulihal Airport before leaving the state.They arrived in the state at around 9 am and soon after their arrival the two Union Ministers along with the Education Minister M Okendra and Chandel district MLA DK Korungthang took stock of the condition at Chandel district and Thoubal district.
"We took an aerial survey of the situation and it is learnt that the Impact cause by the natural disaster is very high", Union Home Minister of State Kiran Rijiju said.
He said many of the cultivated area in Thoubal district and Chandel district has been destroyed. As the toll of destruction is very high it is certain that extra fund from the National Desaster Relief Fund need to be released. He said the recent flood has destructed around 60% of the population.
Dr. Jitendra while speaking on the press conference said that the center will examined the damage cause by the flood after getting report from the state government . He said as of the moment rescue operation has been concluded and immediate relief will be released. As for the rehabilitation the center need to study the details submitted by the state government.
He said people should be careful about the epidemic that is likely to cause after the water recedes.