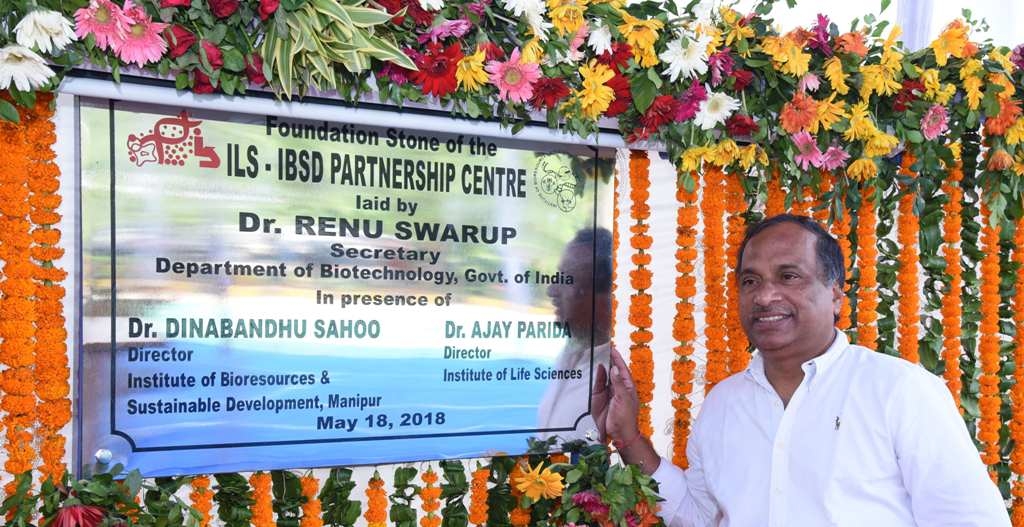 IT News
Imphal, May.19,
Dr. Renu Swarup, Secretary, Department of Biotechnology, Govt. of India laid the Foundation stone of the Research partnership centre between Institute of Life Sciences (ILS), Bhubaneswar and Institute of Bio-resources and Sustainable Development (IBSD), Manipur.
The partnership between the two institutions of the Department of Biotechnology – ILS and IBSD, will focus on research on conservation, value addition and sustainable use of rich bio-resources of Odisha and the North East region of the country, said Dr. Swarup. The centre will look for collaborations with other national and local institutions and universities to undertake need-based research activities and contribute to a great extent for meeting societal goals. Capacity building of scientific personnel of North-East region in the area of advanced biotechnology research and development will be one of the major focus of the centre, she said. Professor. Dinbandhu Sahoo, Director ,IBSD while addressing the gathering said North East region of India falls amongst the top 10 Biodiversity hotspots in the world. All the eight North Eastern states  are rich in Biodiversity and many are unique. There are several unexplored areas which can unravel  new species and new knowledge. The bio-resources need value addition through application of modern technology. This centre will act as a Biotech hub and provide much needed hand holding for training the people. Not only the people from IBSD can take the benefit of this centre but also from other Institutes will be highly benefited, said Sahoo.
Dr. Ajay Parida, Director of the ILS mentioned that since the signing of MOU last year, five major collaborative research progammes are being implemented and a number of students and scientist exchange visits has been organized and hoped that this centre will undertake research on priority areas of  relevance to both the region.
Nikunja Dhal, Principal Secretary, Science and Technology, Govt. of Odisha; B. Anand, Financial Advisor, DBT; Dr. Meenakshi Munshi, Advisor ,DBT and Nodal Officer ,ILS, Dr. Soumendra Patnaik, VC, Utkal University, Sanghamitra Pati, Director, RMRC and others participated in the event.