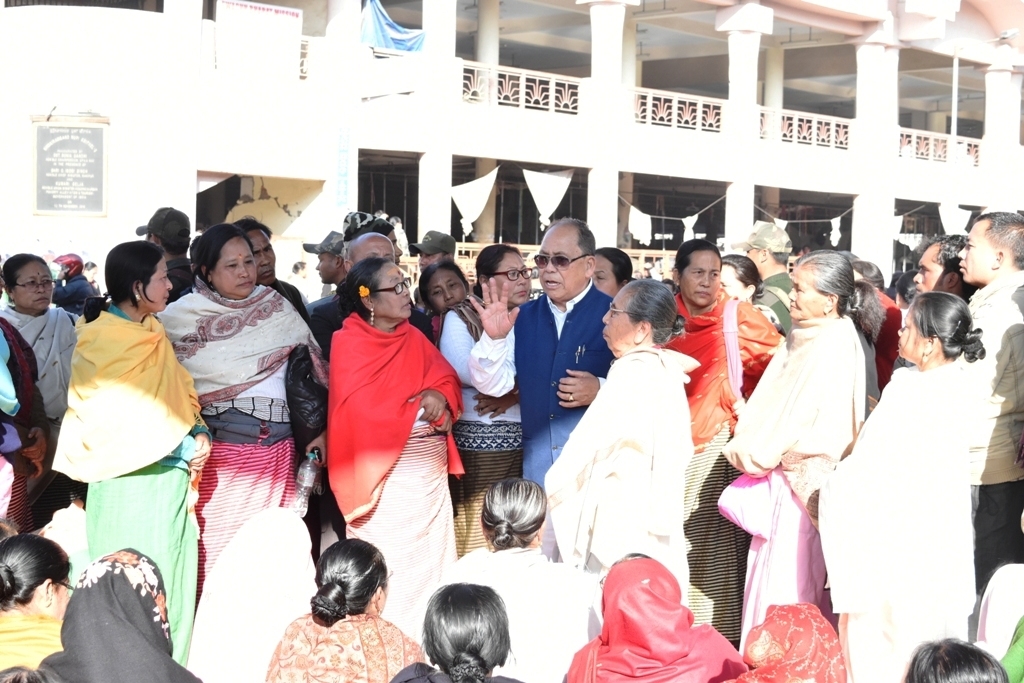 BJP Manipur Pradesh President, Thounaojam Chaoba today demanded immediate probe over the non-maintenance of quality control to the construction of Khwairambandh Ima Keithel.
Speaking to reporters, while inspecting the damage portion of Ima Keithel at around 2.00 pm today, the BJP Manipur Pradesh, President Th. Chaoba said that it was unfortunate that the portion of Ima Keithel was damage when there is still controversy over the allocation of stalls at the first floor. He said the damage of certain beams and walls at the two Ima Keithel has proved how the constructors of the buildings had maintained the quality.
"Garbage plastic, hollow pipe and inappropriate iron rod were seen used for the construction of the historic Khwairambandh keithel only after it was damage after yesterday's tremor", Chaoba said.
He questions on why and how the constructions works of the two historic Khwairambandh Keithel has been allotted to Simplex Company, besides urging to details the name of those involved in the construction of the two Ima Keithel.
Chaoba further demanded to constitute an inquiry committee to probe over the issue or handed over of the investigation to independent central agency like CBI.
Chaoba further demanded to demolish the present Khwairamband Keithel building and construct new one by maintaining proper quality. He also urged the state government to provide immediate allocation for the vendor ladies at some places before any unwanted crisis occur.
The state BJP President said that the matter will also be put up to the notice of the central leadership.
On the other hand Keithel Phambi Apunba Lup and Manipur Keithel Nupi also demanded CBI or NIA probe over the crumbling of the major pillars of the Ima Keithel as the incident had proved that quality has not been maintain to the construction of the two Ima keithel.
President of the Keithel Phambi Apunba Lup Mema while speaking to reporters also demanded to constitute inquiry commission against the authority of the Simplex Company which had constructed the two Ima Keithel. She further questioned the reason on why the Chief Minister did not come out to talk with the  vendor ladies.
Interestingly, of the three Khwairamband Ima Keithel, the two which had been affected by yesterday's tremor was constructed by the Simplex Company while the other which is not affected by the tremor was constructed by the state PWD department.