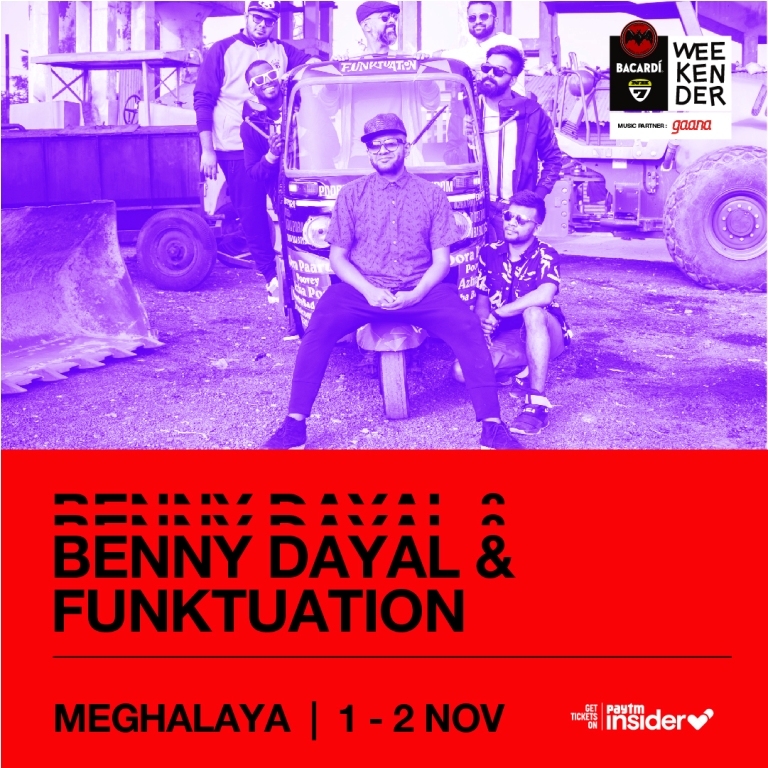 Karnivool, Intervals, Shubha Mudgal, among the artists to headline the festival this year
By : Vikash Singh
Meghalaya: August 2019 – India's happiest music festival is all set to take centre stage in the beautiful hills of Meghalaya from November 1-2, 2019. The fifth edition of the much loved BACARDÍ NH7 Weekender just got bigger and better with its exciting line-up of local and global artists.
The festival will see electrifying performances by international artists like Karnivool and Intervals, with more to be announced soon. Indian artists who will play at the venue are Shubha Mudgal, Benny Dayal and Funktuation, When Chai Met Toast and Raja Kumari. Among some exceptional talent from the North-east set to perform this season are Soulmate: North East Blues Special, Imphal Talkies and Khazi Bloodz.
"We're thrilled to be back in Meghalaya for our fifth year in the state. Since our festival's journey began in 2010, BACARDÍ NH7 Weekender has programmed extraordinary talent for an equally passionate and growing audience of music fans. The festival began as a home for indie musicians to connect with their fans like never before, and over 10 years, it's been surreal to witness the festival grow in the most organic way – both sonically and as a community. With over 82% of our lineup making their festival debut this year, we hope to see fans, old and new to celebrate this decade of happiness with us." said Supreet Kaur, Festival Director.
Anshuman Goenka, BACARDÍ Director Marketing, India commented, "Ten years ago, BACARDÍ's passion for music and our inherent legacy of creating immersive experiences, led to a creative partnership with OML, giving India one of its first music festivals ever – BACARDÍ NH7 Weekender. Fondly referred to as India's Happiest Music festival, our commitment to providing unique experiences and showcasing true talent, remains undeterred. In the last ten years, BACARDÍ NH7 Weekender has successfully brought independent music to mainstream culture and we are confident that in the next ten years, the community will grow bigger and stronger. This year, we look forward to celebrating the festival, our fans and the spirit of always doing what moves us."
 After its opening act in Meghalaya in November, the festival will travel to Pune from November 29- December 1, 2019, where it will celebrate a glorious decade of bringing the best musical talent to all music aficionados.
Since its inception in 2009, BACARDÍ NH7 Weekender has emerged as one of the biggest and most awaited music festivals in India. Over the last decade, it has featured over 600 artists from India and around the world across genres.
Those who've missed the pre-sale of tickets for the concert in Meghalaya, can now buy tickets – Season and Under 21 – from www.nh7.in.
 A quick glimpse into what's in store this year:
Karnivool
Critically acclaimed and widely followed, Karnivool are a progressive metal band from Australia. With their acclaimed 2005 debut, Themata, and 2009's ground breaking follow-up, Sound Awake, Karnivool established themselves as one of the most vital forces in progressive modern music. Now a major international draw, appearing at festivals such as The Big Day Out, Sonisphere (France), Download (UK), SXSW (US) and Hurricane (Germany), and gaining high praise from international press titans such as Rolling Stone, Billboard Magazine, Kerrang! and Rocksound, Karnivool have belied expectation again with album number three, the brazen and introspective, Asymmetry. This expansive new work was designed in the band's Perth studio over two years, before in late 2012, the Karnivool caravan headed across the continent to bunker down with legendary producer, Nick DiDia (Rage Against The Machine, Mastodon) at Byron Bay's Studios 301. A new album is expected this year, with the band having teased it to its audience on social media. This will the band's 3rd time in India, and their first time in Meghalaya with BACARDÍ NH7 Weekender.
 Intervals
Intervals is a Canadian progressive metal band. Formed in Toronto, Ontario, the band has toured throughout Canada and the United States with bands such as Animals as Leaders, Protest The Hero, Between The Buried and Me and The Contortionist. Formerly featuring Mike Semesky, Lukas Guyader, Matt De Luca and Anup Sastry (the drummer from Skyharbor, a Delhi-based prog-metal act featuring artists from the world over), the band currently features Aaron Marshall with a host of guest musicians. Having made an instrumental release titled The Way Forward in 2017, the band is currently on tour across the world promoting its new, unique sound.
 Shubha Mudgal
Shubha Mudgal is a Hindustani classical vocalist trained by some of the finest scholar musicians and gurus of the country. Awarded the Padmashri by the Government of India in 2000, she has received several accolades and awards and has also worked on several projects related to music education. She was also awarded the Nana Shirgaokar Chair for traditional music at the Goa University from 2013 to 2015. Along with her specialisation in Hindustani classical music, Shubha Mudgal is also well known for her work with popular music. She performs with a group of accomplished musicians and composers with whom she has had a long association such as Dr. Aneesh Pradhan, Sudhir Nayak, Aditya Balani, Gaurav Balani, Anil Chawla, Srijan Mahajan and Nitin Joshi. While she has performed multiple times at the happiest music festival, this is her first ever performance with BACARDÍ NH7 Weekender in Meghalaya.
 Soulmate
Soulmate is a blues rock band from Shillong, Meghalaya, India. Often referred to as legends of the rock and roll and the blues scene in Shillong, the band is primarily made up of Rudy Wallang and Tipriti Kharbangar, although they frequently team up with session musicians when on tour. Tipriti is considered one of the finest female singers to have emerged from North East India and Wallang remains one of the most respected blues guitarists of India.
 Benny Dayal and Funktuation
Primarily inspired by the genres of Funk, Soul, R&B, Disco, and Pop, Funktuation is a rare combination of a live band playing dance music. The band with Benny Dayal on vocals, Carl Fernandes on bass, Alok Merwin on synth and keys, David Joseph on drums, Allwyn Jeya Paul on percussions, Joshua Satya on guitars, and Toby Joseph on sound, started out playing covers of funk music from the '80s and '90s, while their front-man, Benny Dayal, began to make his mark in the film music industry. Though Benny's Bollywood career kept him supremely occupied, he, along with the band were determined to evolve into their own identity, and slowly started writing their original music. This mellifluous funk band has been making waves in the Indie music scene since its inception in the year 2011, also at the same time traveling all across the country and the world playing Benny's Bollywood hits but with a funk-twist. They finally released their first Tamil-Funk EP 'Funk Katcheri' in January 2019 prior to which they dropped their first music video 'Oora Paaru' in November 2018. The band has a unique energy which started making waves ever since they came together. They have also collaborated with various other artists for gigs and generated some fantastic numbers to the delight of their audiences. Their biggest asset is their ability to adapt funk into regional languages such as Tamil, Hindi as well as English. They also love putting in a bit of R&B, Disco, and Soul which effortlessly blend with the genre.
 When Chai Met Toast
When Chai Met Toast is a four-piece, neo-folk band from Cochin, Kerala formed in 2016. Their debut EP 'The Joy of Little Things' was released in 2017, followed by their second EP 'Believe' in 2018. They are constantly touring multiple cities and are a festival favorite across India. Their YouTube channel is going strong with over 3 million collective views. Apart from their releases, the band has also worked with the stand-up comedian Kenny Sebastian on the soundtrack of his Amazon Prime Show, 'Die Trying'. They are known for their foot-tapping energy and unique brand of infectious happy music, which transcends age, genre and even language.