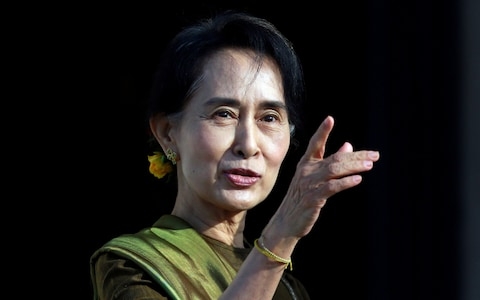 By -Chalamba Kshetri
I was motivated deeply to write this article after watching the film ' The Lady' ( 2012 ) starring Mitchelle Yeoh as the lead, portraying the iconic character ' Aung San Suu Kyi' of Myanmar. As the film progresses, I was totally shocked by her character, suddenly started to feel goosebumps by the realities and incidents she encountered through for the pursuation of Democracy in Myanmar. Her boldness attitude against the Military Juntas was quite a thing.
From the case where she was put under house arrest for 15 complete years to Military refusal to handover power after her Pro- Democratic Party ( NLD ), got a landslide victory over the Juntas in the election. The personal loss she meet, when she was not permitted to leave the country for her ailing husband to the situation where her two sons where denied Visa permission to reconciled their long separated mother. Aung San Suu Kyi life was full of surprises and the tussle for Pro- Democracy and patience which she endured makes her suitable for the title, ' The Lady with no Fear'
Dear reader, let's further dig out more about who this iconic lady was.
Early Life and Background –
Aung San Suu Kyi was the daughter of General Aung San, the Independence hero who negotiated their Independence from the British. However, he was assassinated in July 1947, just six months before the Independence of Burma ( later Myanmar ). By that time Ms. Suu Kyi was only two years old. She spent a decade in abroad living in India, Bhutan, U.K and Japan. In the 1960's, her mother ( Khin Kyi ) was appointed as Myanmar Ambassador in Delhi. She did her Graduation in Lady Shri Ram College, Delhi University. Four years later, she went to Oxford University in the U.K, where she studied Philosophy, Politics, and Economics. There she met her future husband, Michael Aris. After working and living in Japan and Bhutan for some time, she settled in the U.K to raise their two children. But Burma was never far from her thoughts.
Political Venture –
Aung San Suu Kyi arrived back in Rangoon ( Yangoon ) in 1988 to look after her critically ill mother. By that time, Myanmar was in major political upheaval going on, which was popularly known as ' 1988 Uprising'. Demanding Democratic reforms, thousands of students, office workers and monks demonstrated to the streets. Inspired by the non- violent Campaigns of Nelson Mandela in South Africa and that of Mahatma Gandhi in India, she widely rallied and travelled around the Country, calling for peaceful democratic reforms and free elections. She formed the National Democratic Party ( NLD) in 1988 with the help of several retired army officials who criticized the Military Juntas 
In 1990, the Military Juntas called a General election in which NLD received 59% of the votes, guaranteeing NLD 80% of the parliament seats. The World thought she would have assumed the office of Prime Minister, however she was not permitted as she did not stand as a candidate in the election. Contrary to her vision, the Juntas nullified the results and refused to handover power which resulted in International outcry. She was placed under house arrest after the elections.
House Arrest –
Aung San Suu Kyi was placed under house arrest for a total of 15 years over 21 years period, on numerous occasions, since she began her political career. She was prevented from meeting her party supporter and International visitors.
 Although under house arrest, Aung San Suu Kyi was granted permission to leave the Burma under the condition that she never return, which she refused claiming that " As a mother, the greater sacrifice was giving up my sons, but I was always aware of the fact that others had given up more than me. I never forget that my colleague who are in prison suffer not only physically, but mentally for their families who have no security outside in the larger prison of Burma under authoritarian rule"
Many Nations continuously appealed for her release and supported her movement. Prominent figures also vocalled for her release. On 12 November 2010, after the Juntas backed Union Solidarity and Development Party ( USDP ) won election conducted after a gap of 20 years, the Juntas finally agreed to released her from house arrest. She contested in 2015 Myanmar election resulting in her party, NLD won a sweeping victory, winning atleast 255 seats in the House of Representatives and 135 seats in the House of Nationalities. However she was barred from holding the post of President as she is the widow and mother of foreigner. Later on, after amending the Constitution, she became the State Councillor of Myanmar, a position akin to ' Prime Minister' especially created for her .
Her tenure as State Councillor of Myanmar has drawn International Criticism for her failure to address her Country's economic and ethnic problems. She was also accused of weakening the Freedom of Press.
International Response and Recognition –
Ban Ki – Moon the then, U N Secretary General went to Burma in 2009 to pressure the Juntas into releasing Aung San Suu Kyi and to Institute democratic reform. However, the Juntas refused to meet him citing ' not to meddle in the Internal Affairs of the State'. Her subsequent trail and arrest received Worldwide condemnation by the United Nations Security Council, Western Government, South Africa, Japan and the Association of Southeast Asian Nations, of which Burma is a member.
In December 2008, the United Nations General Assembly passed a resolution condemning the human rights situation in Burma and calling for Aung San Suu Kyi release – 80 countries voting for the resolution, 25 against and 45 abstentions. During 2009 US- ASEAN Summit, US President Barack Obama personally advocated the release of all political prisoners especially Aung San Suu Kyi. Nobel Peace Prize winners The Dalai Lama, Desmond Tutu, Betty Williams, Jody Williams, Barack Obama and other prominent personalities called for the Juntas to release Aung San Suu Kyi. 
Aung San Suu Kyi has received numerous awards and recognition throughout her life for her Peace and Freedom Activism in Burma. She is the recipient of Sakharov Prize for Freedom of Thought (1990 ), The Novel Peace Prize (1991), The Congressional Gold Medal ( 2008) and Amnesty Ambassador of Conscience Award ( 2009 ). However, since the  2016 Rohingya persecution in Myanmar many of these honours have been revoked due to her perceived inaction to stop the crisis.
Rohingya Genocide and Criticism-
After a democratic opening up in 2006 and since she held the post of Myanmar State Councillor ( equivalent to the rank of Prime Minister). Aung San Suu Kyi has been rounded up the same International leaders and Activist who once supported her.
International Community was outraged by the possible Persecution and Displacement of Rohingya Muslim by the Burmese Army which resulted in Rohingya ethnic fled to the neighbouring countries seeking refuge. They accused her of doing nothing to stop rape, murder and possible Genocide by refusing to condemn the powerful military or acknowledge accounts of atrocities. In 2012, Aung San Suu Kyi told reporters that, she did not know if the Rohingya could be regarded as Burmese citizens. To this, several critics vocalled for the revokation of ' Nobel Peace Prize' which she had received. Myanmar now faces a lawsuit at the International Court of Justice ( ICJ ) base in the Hague, and Ms. Suu Kyi has travelled to the Netherland to fight the charge of Genocide levelled against her country.
Just a thought, The International Community has expected and rellied too much on Aung San Suu Kyi. Yes, she is the beacon of Democracy in Myanmar, however we tend to forget that a single individual cannot change the whole situation and realities. Criticism is undeniable when you are an icon. With a great personal risk and choices, Aung San Suu Kyi demonstrated extraordinary courage. As an admirer of her struggle and sacrifice, she will always be ' Lady with no Fear'