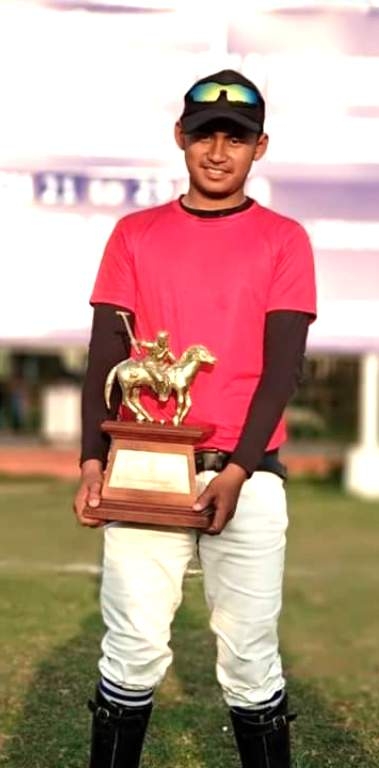 The India B team for the 12th Manipur Polo International will see a fresh face in the form of Leishemba Takhellambam. Resident of Uripok Achomm Leikai, Leishemba Takellambam is the son of Takhelllambam Babu Singh and Koijam Rashi Devi. Besides, taking up horse ridding and polo with utmost commitment, Leisemba is also pursuing academics seriously and is at present studying in Manipur University for his MA degree in Political Science.
Like most polo players, Leishemba also began riding a horse at a very young age and by 14, started taking proper riding lessons from Salam Inaocha. His uncle T Naoba Singh who used to play the game was the initial inspiration for Leishemba. Leishemba recounts with gratitude the contributions of S Naba Singh, father of S Bimol, Salam Kumar and Pallungbam Jotin (Goroba) from whom he learnt the nuances of the game.
Leishemba believes the game is greater than any individual player, and there is no end to learning. As he says, "I any consider player who is my senior and who is more experienced, my teacher and I have no hesitation in going up to him for guidance". Getting selected for Manipur team for him is a blessing, as he will have the privilege of playing alongside Pradeepkumar, Bimol and Ojit who are vastly experienced. Leishemba also considers this tournament a god given opportunity to keenly watch the foreign players and possibly learn new techniques from them.
Leisemba made his debut in state polo tournaments with Kripsa Polo Club, Naoremthong in 2012. The next year he shifted to Kangleipak Polo Students Club. In 2015, he played for Ibudhou Thangjing Polo Club and the next year he turned out for Imphal Riding Club. In 2017, he joined the Chingkheihunba Polo club, which proved to be a turning point in his career. The club went on to win the Governors Cup 2018 and was runners up in the N Hazari tournament 2018 and Leishemba earned a place in the Manipur team.
Besides playing polo, Leishemba has also made a mark for himself in equestrian sports. In the 11th DGAR Cup State Equestrian Championship 2014 he was the champion in the Junior Tent Pegging event. He went on to repeat the feat in the next edition of the Championship, thereby establishing his authority in this event.
Leishemba believes it is important to love the pony if one wants to become a good polo player. "I should take good care of my pony, should think about him before myself, make sure he eats before I do, he should become my priority in every sense". For Leishemba, polo is a "man's game, you need a certain amount of daredevilry to play this game, if you are scared the horse will sense it and you will not be able to control him".
Leishemba nearly did not take up polo, as his father was dead against it and wanted his son to concentrate on his studies. But Leishemba, despite the strong disapproval of his father chose to follow his heart and by breaking into the state team has proved that studies and sports can go together. And, this must be one instance, where Takellambam Babu Singh must be most pleased to have been proved wrong.