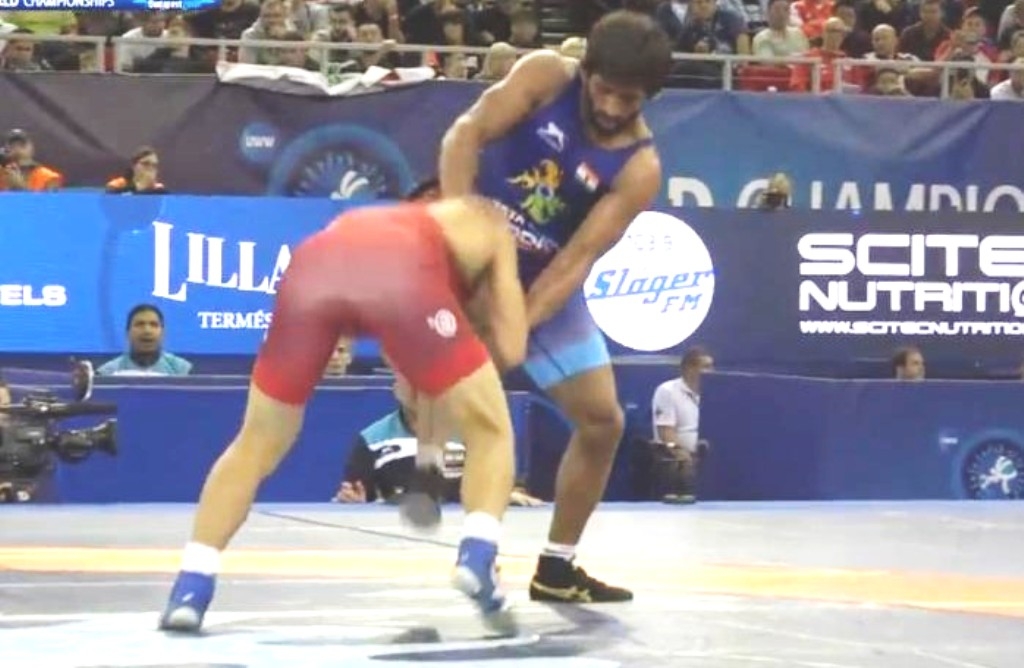 From a correspondent
New Delhi, Oct. 22
Jakarta Asian Games gold medallist Bajrang Punia beat Tulga Tumur Ochir of Mongolia 5-3 to enter the Freestyle 65 kg semifinals on the second day of the World Wrestling Championships at the Papp László Sportaréna in Budapest today.
In a thrilling quarterfinal, the Indian held upper hand until the last minute, leading 4-1. But Punia conceded to his Mongolian opponent three crucial points, including one for the neutral position and two for the takedown within 40-odd seconds, almost stopping the Indian's progress.  
But luckily, Punia held his nerves and even thwarted a challenge by the Mongolian in the last second, thus earning an additional point for the CWG gold medallist.
"I am happy I was able to keep my cool in the last few seconds to see this through. I am confident and I also knew that the challenge cannot go against me," said a relieved Punia, who led 3-1 at the end of the first period," said the grappler from Budapest over phone.
The Indian will take on in the semifinals, later tonight, Alejandro Enrique Valdes Tobier of Cuba.
Coach Jagminder was equally happy to see the grappler enter the semifinals. "I am happy for Bajrang. He is an experienced player and did well throughout the bout but I am particularly happy that he could keep cool and win it despite the match being very close," said the National Men's Freestyle Coach.
Earlier, Punia defeated Roman Asharin 9-4 in the first round and beat Korean Lee Seungchul 4-0 in a bout which saw both grapplers trading cautiously. After having earned three points in the first period, Punia added just one more in the second even as the Korean was concentrating more on his defence.
In other bouts of the day, Sandeep Tomar scored an excellent first-round win over his Guatemala opponent Jose Mox Arias with a score of 10-0, six of his points coming in the second period. He, however, lost the second round to Azerbaijan's Giorgi Edisherashvili 2-2—his opponent was declared winner because of a warning which the Indian received in the first period.
Sachin Rathi lost his first round 92 kg category bout to the strong Mongolian wrestler, Unurbat Purevjav, 13-1, the latter outclassing the Indian in the second period. On the other hand, Deepak, who received a first-round bye, lost the second-round bout to Liubomyr Sagaliuk of Ukraine 4-0.