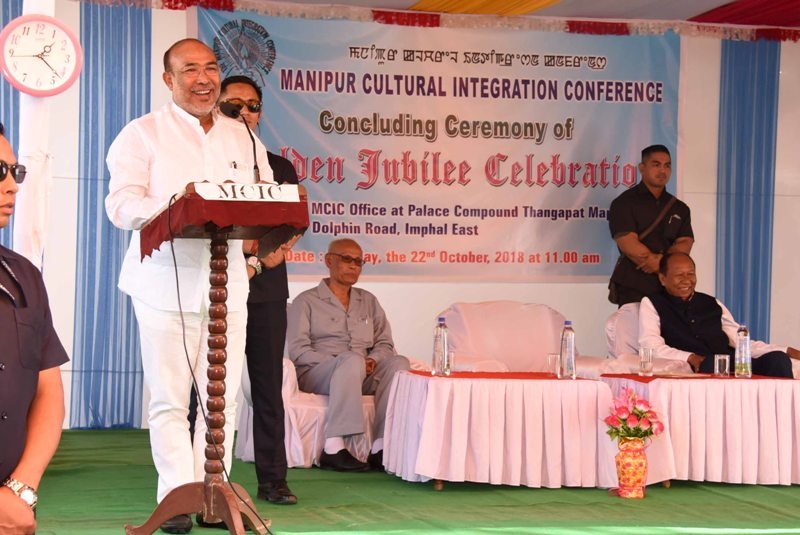 Imphal, Oct. 22,
Chief Minister N. Biren Singh has said that cultural exchange brings love and amity among people. He was speaking as the chief guest at the concluding function of the year-long Golden Jubilee celebration of Manipur Cultural Integration Conference (MCIC) at its premises at Palace Compound, Thangapat Mapal in Imphal East District today.
The Chief Minister said that he was overwhelmed on hearing the past works and contributions of MCIC towards maintaining cordial relation between the hill people and valley people. The so-called hill-valley divide could have been avoided had the then successive Governments sought suggestions from MCIC and adopted its thoughts, he observed.
Stating that the new Government is committed to bridge the gap between hill and valley, the Chief Minister said that there has been considerable improvement in the hill-valley ties ever since the 'Go to Hill' mission was introduced.
The Chief Minister said that as a result of his suggestions to the Centre regarding the urgent need for a topographical-need-based budget in the States like Manipur where there are both hill and valley areas, the Centre had introduced Hill Areas Development Fund. N. Biren further said that of the 82 districts of the country shortlisted for Hill Areas Development Fund for 2017-18 fiscal year, Tamenglong district had been included. Now the district would receive an additional fund of Rs. 90 crore for developmental works under Hill Areas Development Fund, he informed.
The Chief Minister also announced that the Government would construct a hall for MCIC soon.
Manipur Legislative Assembly Speaker Shri Yumnam Khemchand and MCIC president A. Brajakumar Sharma were the guest of honour and functional president respectively.