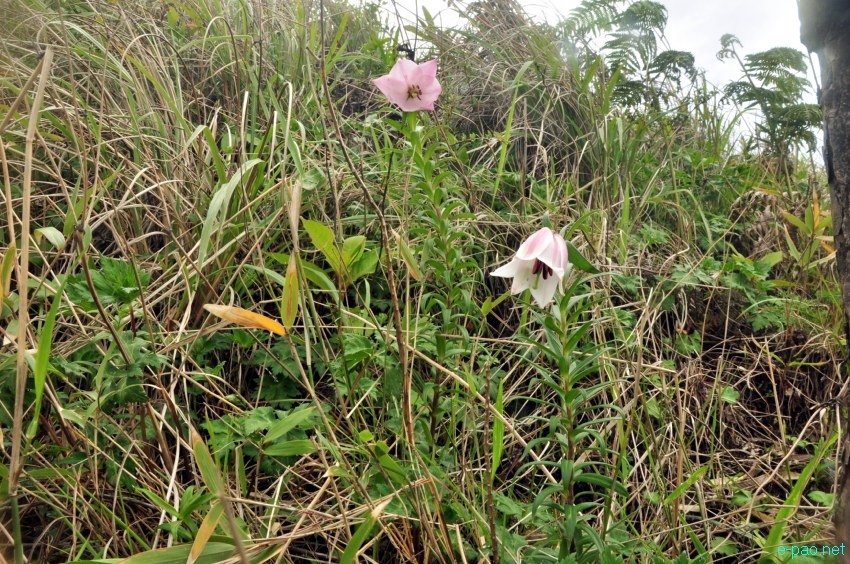 WAHENGBAM RORRKYCHAND
After the Nagaland Board of School Education (NBSE) "falsely" claimed Shiroi Lily (Lilium mackliniae) "only available in the Siroi Mountains of Nagaland State"- various students' bodies fumed against the State Government for its inability to take up needful action in time.
Kangleipak Students' Association (KSA) has been demanding the Manipur government to take necessary action to remove the controversial mention of Shiroi Lily — the state flower of Manipur –from the class IX and X textbooks prescribed by the Nagaland Board.
In order to register its demand the students body (KSA) has staged a statewide protest black-badge protest today.
While slamming the NBSE for its intention to mislead the students of the state with false claim, President of Students' Union of Kangleipak (SUK), Jayentakumar told Imphal Times, that it is calculated scheme to brainwash the Nagas.
It is not the first incident of 'external aggression' in Manipur; the heedlessness attitude of the state government is going to be a costly affair in the long run. The incident of burning textbooks prescribed by the Board of Secondary Education of Manipur (BSEM) by Naga Students bodies in Manipur's Ukhrul district in 2006 was also due to such reckless attitude from the part of Manipur government, said the students' leader.
While President of All Manipur Students' Union (AMSU), Sanasam Subhashchandra said that the mentioning of Shiroi Lily in the NBSE's textbook indicates the meanness of Nagaland government.
He also demanded the state government to take up immediate measures to rectify the controversial part in the Nagaland board textbook after contacting their counterparts.
The matter was today raised during question hour today. Chief Minister while replying to the question said that Govt. acknowledged the issue.
Image Source : e-pao.net