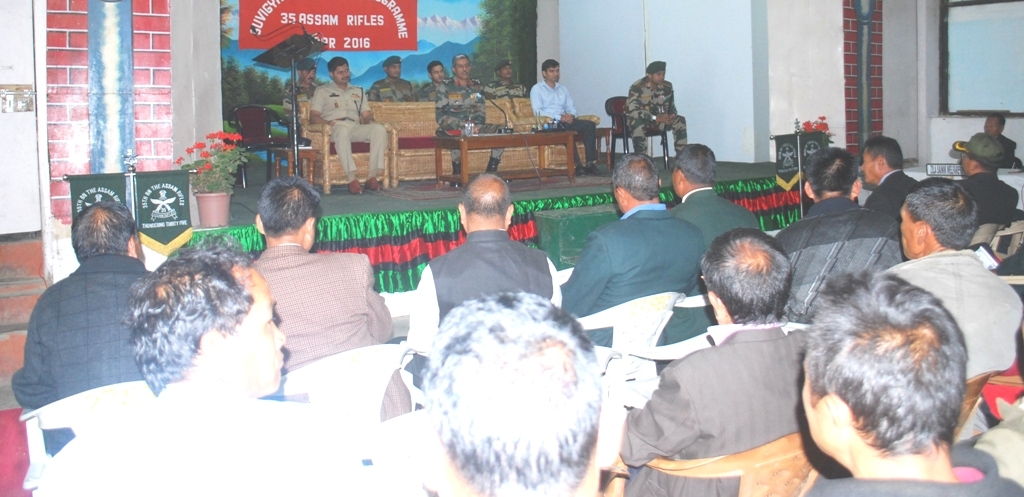 PIB DEFENCE,
Imphal, April 16: Red Shield Division organized Ex-Servicemen Rally (ESM)at Maram on 15 Apr 2016. The  event was presided by Brig Jeetendra Ohri, Commander Senapati Brigade along with Colonel Dipankar Basu, SM, Commandant Maram Battalion, Shri Kabib K, SP Senapati district, Shri Pawan, IAS (rep of DC Senapati) and civil dignitaries and saw participation by more than 200 ESM, including war widows, veer Naris and children from Senapati district and adjoining areas.
The ESM were apprised about the various welfare schemes of the Central and State Government.Suvigya stalls were installed to help remove discrepancies in pensions of the veterans.  The State Government representatives informed about various state welfare schemes available for ESM.Representatives from Police and SBI also addressed the problems of ESM.
The rally was a grand success in addressing problems of ESM and also briefing together the serving and the retired fraternity of the defence services. Each ESM present for the rally went away benefited in a happy frame of mind thanking the Maram Battalion for organizing such a mass scale rally in Senapati District for the first time.