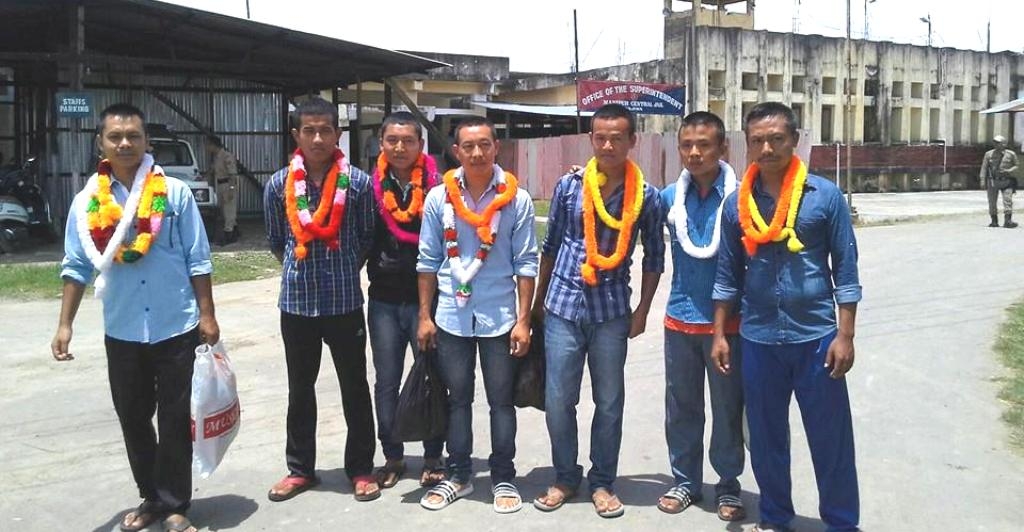 The state government today morning released the 7 (seven) student protestors who were arrested from various places during the ongoing agitation for implementation of Inner Line Permit System in Manipur without any condition.
The release came following an agreement between state government and a team of JCILPS on August 10. Following the release of the seven pro ILPS activist the Convenor-in-charge of the JCILPS , Kh Ratankumar today said that they will now continue talk with the government. Earlier, Kh Ratankumar had stated that the JCILPS will not continue the talk if the students and JCILPS supporters who were arrested by the police during the course of the agitation are not released before 3 pm today.
Large number of people including the members of the JCILPS gave the released student protestors with honours by hugging them garland and shouting slogans for implementation of ILPS in the state.
Those released today without conditions are Th Suresh , Advisor AMSU, , K Dhanabir, Vice president AMSU Head Quarter, Th Kavichandra , President, AMSU Bishnupur Branch, L. Robindro, Secretary, AMSU Bishnupur Branch, S Somokanta , Former President AMSU Imphal East, K Siming, Organisation Secy AMSU Bishnupur Branch and K Premkumar, Finance Secy. AMSU Bishnupur Branch.
Soon after their released the students then visited the residence of Sapam Robinhood at Lairikyengbam Leikai Khurai and paid floral tribute to the portrait of the martyred students who had given his life during the course of the agitation on July 8.
Meanwhile, several meira paibis continue to stage protest in support of the JCILPS at various places.
On the other hand supporters of the JAC against the brutal killing of Sapam Robinhood continue to block Dingku  road near Lairikyengbam Leikai by placing woods across the road. However, essential services and media persons were allowed to pass the road after verification by the JAC volunteers.