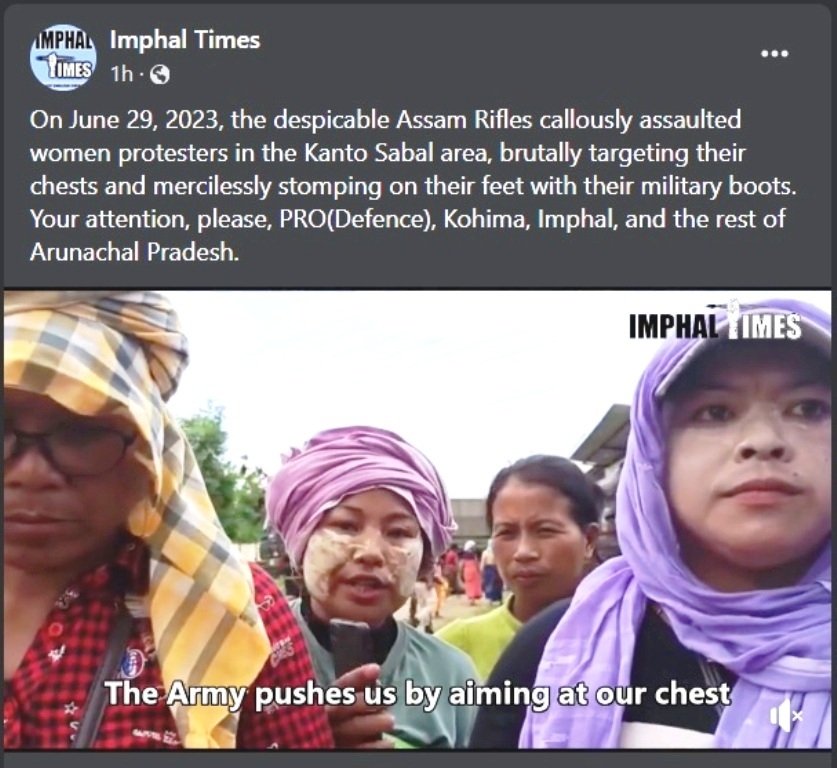 IT Desk
Imphal, July 1:
A statement by PRO (Defence) Kohima has refuted the news report of Imphal Times under the heading 'AR Physically Abused Women Folk of Kanto Sabal, 10 Injured' published in the June 30, 2023 edition, terming the report as incorrect. The PRO Defence further condemn the news report as untruthful, unverified and misleading.
But Imphal Times stands with its report as we in the Imphal Times have video recordings of the villagers. The editor of Imphal Times said that we used the term 'inappropriate action by AR troops while controlling the women agitators, as we in this newspaper felt it unparliamentary when used the word told by the women agitators to our reporter. A portion of the video record has been uploaded to Imphal Times Facebook page. We in the Imphal Times once more clarified that the report was published after proper verification.
The PRO (Defence) statement said that on 29 Jun 2023, more than 1000, Meira Paibis (Women activists) armed with Lathis mobilised from nearby villages and assembled at Kanto Sabal village, deliberately blocking routes and interfering in the move and operations of the Security Forces.
"The unjustified interference is detrimental to the timely response by Security Forces during critical situations to save lives and property. Uncorroborated and Misleading Telecast on Tom TV and Imphal Times newspaper heading 'AR Physically Abused Women Folk of Kanto Sabal, 10 Injured' is incorrect. On the contrary, the Meira Paibis armed with Lathis were trying to break through the barricades established by the Security Forces. Such uncorroborated and one-sided report is misleading the people", the statement said.
"Once more Imphal Times remind that we only reported what we have seen and we in the Imphal Times have the names of those injured in that incident. The intention of the news report is to make sure that higher authorities of the AR advise their troops on the ground to have some respect for women. We in the Imphal Times are not against the AR in any of their action to control agitation. But suggest the AR troopers respect the dignity of women while controlling them", the Editor of Imphal Times said.