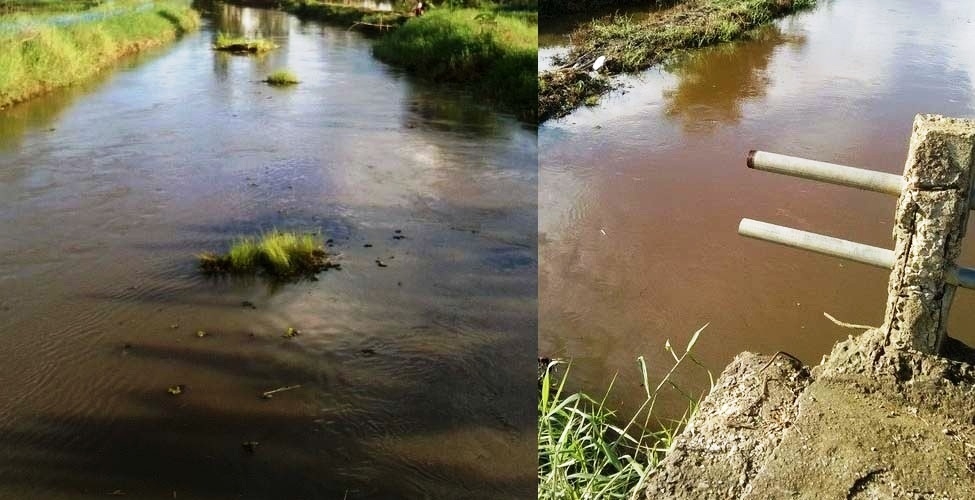 IT Exclusive
By Wahengbam Rorkychand
The 25 km-long Maramba canal that flows from Wabagai to Imphal Turel via Hiyanglam area has reached the danger mark level due to recent incessant rainfall.
Since Sunday (20/09/2015) the water at the canal has been flowing by about 400 cubic feet per second having average depth of 10 feet approximately and still flowing at the same level.
Worsening the situation large amount of floating biomass from Pumlen Lake has been accumulated at Maramba canal, which is also known as Nongyai Khong at its lower part. As the slope/gradient is small- about 8 feet slope in a span of 11 km- sometimes reverse flow occur and this may inundate many low lying areas.
On top of it, the dying lakes like Ikop, Khoidum and Pumlen lakes added further worry to the villagers.
In Hiyanglam area alone Maramba canal passes through in the middle of paddy fields covering about 6,000 hectares in a span of about 20km in length.
A dam on the northern side Moirang Kom Bridge without any shutter may be replaced with shutter to reduce water level at faster rate. Water regulation for draining out during flood like situation as well as restricting water during lean season both are equally important for Maramba canal. Dams with shutters are required for the canal for regulating water flow, said Priyokumar Sougaijam told Imphal Times.
If solar powered day time pumps are used by mounting it inside the canal at three/four locations (which are comparatively low costs) may benefit by the farmers, said Priyokumar, who conducted a survey of the water level at the canal.
The former Director of Science and Technology, Government of Manipur further added that so far Maramba canal has been used only for draining out water from inundated low lying areas. But it has having great irrigation potential to convert nearly 6000 hectares of land into multiple cropping fields by proper use of Maramba canal regulating its flow to suit the hydrology of the Maramba canal.
The water scarcity in lean season may be solved by the proper use of Maramba canal by regulating water flow to suit the hydrological condition of the canal, he said.
He also informed that the bridge at Moirangkhom fall short by 40 feet causing a constriction and reducing draining capacity due to the overflowing of water along the canal.