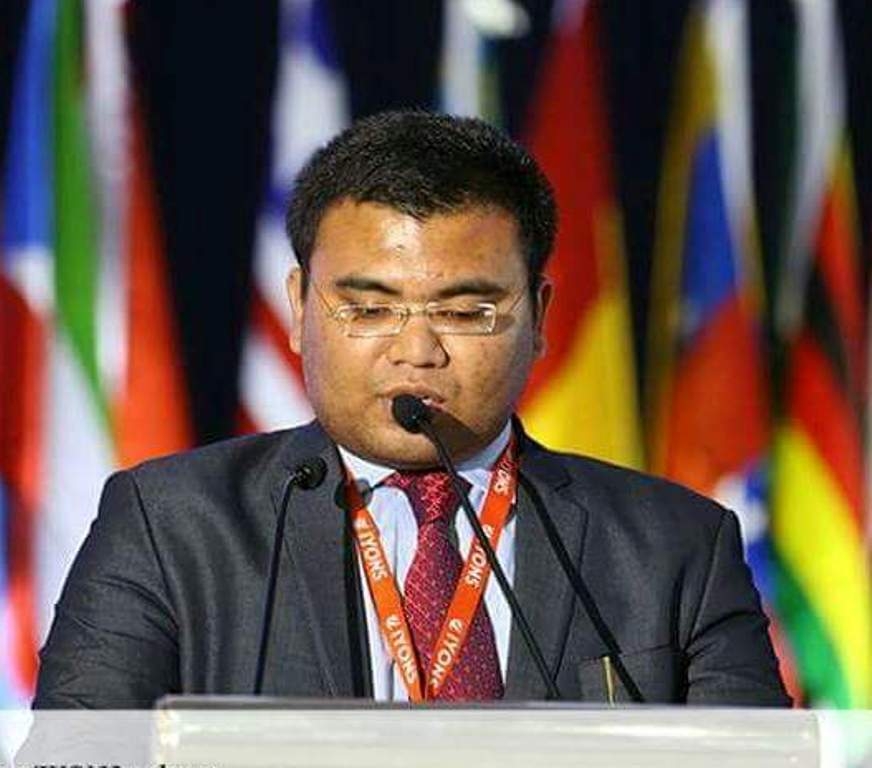 State's youth  Kanarjit Kangujam (25) S/O K. Ibotombi Singh of Bashikhong Wangkhei Loumanbi Mapal, Imphal East, Manipur has been announced as the winner of The Prestigious "Commonwealth Young Leader Award 2016"  by the ESHO INTERNATIONAL FEELLOWSHIP chaired by Mr. Rubangakene Kenneth, on 24th December 2015 in recognition of his outstanding selfless service to empower youths of the world specially for the Commonwealth nations. He is the only one selected from the whole 53 Commonwealth Countries.
The Award consists of a Cash Prize of 10,000$ ( Rs. 6.5 Lakh), a trophy and a certificate. It will be honored on 16th May 2016 in a prestigious functions of the ESHO INTERNATIONAL FELLOWSHIP PROGRAM at the Hotel Free Zone, Gulu, Uganda. It will be handover in the presence of the high level officials and leaders of Commonwealth Youth Council,  various social philanthropists , icons of the commonwealth nations, etc.
Currently, he is working as the Advisory Board Member, Youth School of Social Entrepreneurs (YSSE), Dhaka, Bangladesh, Honorary Member of World Peace Mission & Human Rights Academy, Ukraine, , Coordinator of Mitsubhishi Asiana Children Enikki Festival, Japan, Director of UNESCO Club Manipur, President of International Youth Committee (IYC), Founder and Secretary General, Club25 International Manipur, State Coordinator, Youth Disaster Response Team, Manipur, etc.
He is also the man behind the Global Youth Meets and World Youth Summit which is giving a big platform and also taking an important role in transforming youths of the world to be a social entrepreneurs in their respective countries or the region. He involves in various social issues, donated bloods 26 times in 25 years of age and also had donated all his organs (cornea, kidneys, liver, heart, lungs, pancreases) to Dr. Kokilaben Dhirubhai Ambani Hospital and Medical Research Institute, Mumbai on 13th August, Organ Donation Day 2015 initiated by The Time of India, growing up as as a social leader in the state of Manipur. He is working to stop human trafficking, to promote rural education and to create awareness for disaster management. His main work is with the youths to create awareness of Blood donation, to donate blood 25 times at 25 year of age, and also move to rural villages for the awareness of drugs and HIV/AIDS.
He was also awarded with number of awards and recognitions like Pride of India 2015, Dr. BR Ambedkar National Award 2014, "Global Youth Award 2014", "Indo – Nepal Friendship International Award 2013", "Health Minister's Shield Award 2013″, "North – East Social Impact Finalist Award 2015", nomination for "Global Youth Icon Award 2015", etc.