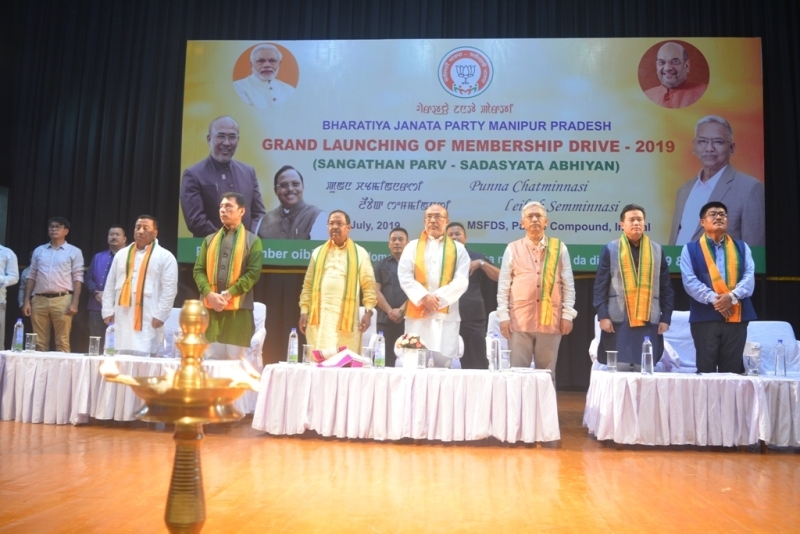 IT News
Imphal, July 6,
Rajya Sabha MP K. Bhabananda who is also the President of the BJP Manipur Pradesh today turned emotional over the allegation on the misappropriation of the MPLADF to him while delivering speech in connection with the membership drive of the BJP commemorating the 118th Birth Anniversary of Dr. Shyama Prasad Mukherjee at MFDC Auditorium here in Imphal.
"An MP can only recommend for the works of the MPLADF and the works are implemented by the Engineers and the DC", Bhabananda said and questioned the newspapers for defaming his name when he has nothing to do with the implementation of the MPLADF.
"Now I will suggest the Union Minister Harsh Vardhan to fix all responsibility in the implementation of the MPLADF if we want to make sure that the fund is utilized properly", Bhabananda said. 
He further said that it was unfortunate that his name has been defamed by newspapers over the misuse of his MPLADF fund. He declared that all works taken up under his local area development fund will be made public after the monsoon session of the Parliament. He also added that he had written a letter to Harsh Vardhan for taking up privilege motion regarding the defamation of his name.
On the other hand Bhabananda also asked on why only he has been looked for the misappropriation of the MPLADF.
"There are many who have been MLAs for many years, why no one is being reported and why only me", an emotional Babananda said.
On the other hand the BJP Manipur Pradesh President said that BJP Manipur Pradesh will cancel party ticket to MLAs who fails to submit the report for implementation of the Local Area Development Fund.
Bhabananda did not say anything on whether he will initiate action against those involved in the misappropriation of the MPLADF.