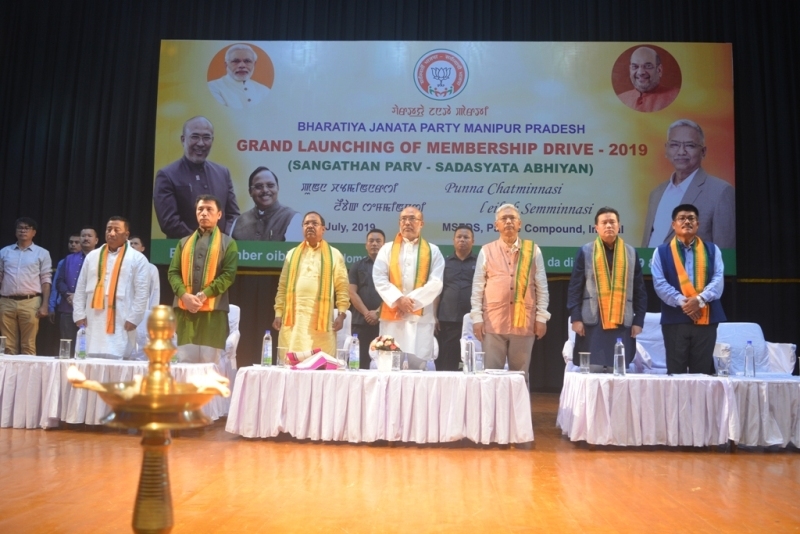 IT News
Imphal, July 6,
"We are one family even though there are issues and those are family matter", both Chief Minister N. Biren Singh and Minister Th. Bishwajit said while delivering speech in the BJP's Grand Launching of Membership Drive -2019 and 118th Birth Anniversary of Dr. Shyama Prasad Mukherjee held today at MFDC Palace Compound Imphal.
Th. Bishwajit is alleged to be a leader of the dissident group which is revolting for replacement of Chief Minister N. Biren Singh. He stayed away two times by not attending cabinet meeting convened by the Chief Minister. Politically conscious people of the state were taken by surprise in seeing both the Chief Minister and Minister Bishwajit sharing the same dais in the function of the membership drive of the BJP. Other members attended on the dais are RS MP K. Bhabananda, who is also the President of the BJP Manipur Pradesh, LS MP Ramvichar Netam, National President, ST Morcha, BJP, Minister Th. Shyamkumar, Minister Th. Radheshyam Singh and L Deven Singh , State membership in charge , BJP Manipur Pradesh.
Minister Bishwajit while speaking on the occasion said that he comes out for the party and BJP is one family. There may be differences and issues but those are family matter and will not last only as it will be settled soon, the minister added. 
Bishwajit also added that sidelining the differences among the family matters, the need of the hour is to go for a better future and each of us should take the responsibility for making a better future.
Chief Minister N. Biren Singh while delivering his speech quoted Minister Th. Bishwajit said that there will be issues in family and those issues will have a solution.
"As Minister Bishwajit had stated, it is natural that a family even brothers have differences of opinions and those differences will have a solution", N. Biren Singh said.
The Chief Minister further said that the State, the country and the people are more important to them and all should work together for the people for the nation and the state.
"We cannot damage the state for one "me" alone, we cannot lose our country for one "me" alone", N. Biren Singh said.