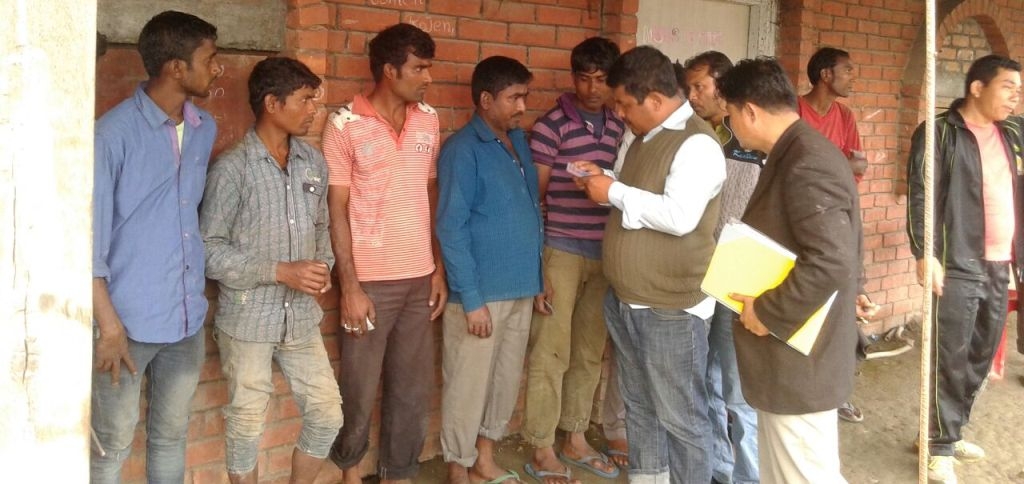 Days after government seemed to have neglected the 3 ILPS related Bills passed by the state Legislative Assembly in August 31 last year, the Joint Committee on Inner Line Permit System is left with no choice but to launch drive against illegal outsiders in the state. As announced earlier, the JCILPS under the supervision of its convenor Khomdram Ratan had begun intensive drive against the illegal migrants in the state that are engaged at various construction sectors in the state.
Early today morning a team of JCILPS under the supervision of Convenor Khomdram Ratan went at the construction site of Govt. Indian Institute of Information Technology at Mantripukhri in Imphal West.
Even as the three Bills passed by the state legislative Assembly is yet to get consent from the President of India, the JCILPS team conducted a spot verification of the identity of each workers utilized at the construction site. The Migrant worker are mandatory to get work permission under the inter-state migrant workmen regulation Act 1975.
During the verification the JCILPS team found 35 labourers without any documents. 22 other labourers were found possessing improper documents.
Convenor of the JCILPS Khomdram Ratan said that the committee is left with no choice but to engage in flushing out the illegal migrants from the state as concern government authority are not doing their duty. He said government should urged the centre about the need for implementation of the three ILPS related Bills to protect the indigenous people of the state.
Mentioned may be made that 9 dead bodies are still lying at Churachandpur protesting the thee Bills and demanding for immediate withdrawal of Bills. However, the JCILPS as well as the government had repeatedly said that no there is no content that might hurt the interest of the tribal people in the said ILPS related Bills.