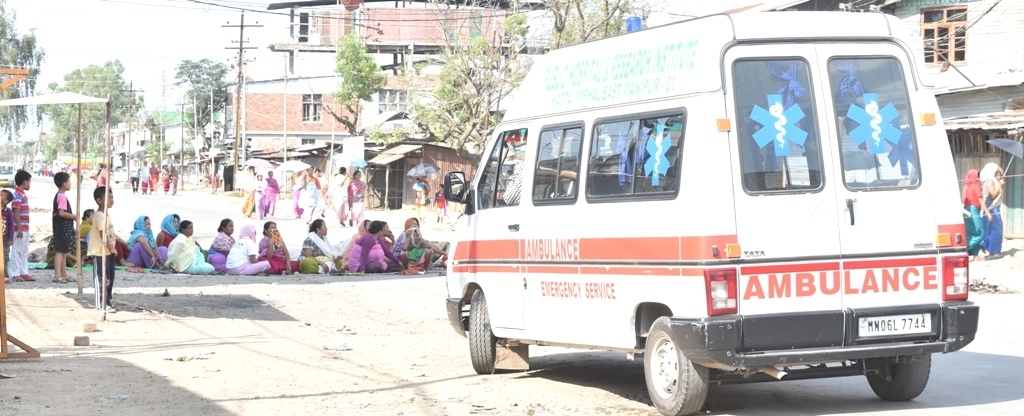 Imphal, June 1: Even as no exact line of agitation has been announced by the JCILPS spearheading the series of agitation demanding implementation of ILPS in the state, local club members, meira paibi organization and other supporters of the ILPS movement today staged protest at various places here in Imphal. The kind of protest varies from place to place but demand is the same – "Implement Inner Line Permit System in the state".
At National Highway 37 women volunteers of Langjing Achouba Apunba Meira Paibi Lup staged protest by blocking half the road at Langjing Achouba Chingmang area. The protestors while urging the government for implementation of the ILPS in the state warned the 60 MLAs to understand the sentiment of the people.
Unlike the protestors at Langjing area large number of women Meira paibi blocked the road completely at Patsoi –Part 3 and Part 1. The protestors there denounced the silence of the MP Dr. T Meinya over the three Bills passed by the state legislative Assembly. A protestors questioned why the MP had not speak a word to the demand of the people and why he failed to raised any question regarding the three Bills at the Parliament.
At Mayang Imphal Road commonly known as MI road, meira paibi of different localities staged protest demonstration by blocking the road at various places. At Keishamthong Elangbam Leikai area around 100 of women prevented vehicular movement at the road. Except for emergency services and those for ritual purpose no vehicles are allowed to pass the road.
"We are blocking road because we are boycotting the government and we do not want any government employees to attend office", a protestor said.
Yesterday Chief Secretary in an order had appealed all government employees to make sure their attendance till June 3 starting from today.
At Khurai Lamlong Keithel, large number of supporters came out in the street and burnt tyres and other material in the middle of the road stopping all sorts of vehicular movement in the area.
At Ayangpalli road and Wangkhei area in Imphal East ladies clothes were hanged across the road to stop any kind of movement.
Protestors at Yairipok, Wangjing, Thoubal and Lilong too stage protest by blocking road .
At Khabam lamkhai, Luwang Sangbam and Mantripukhri  area large number of people came out on the National Highway and prevented any sort of vehicular movement.
Interesting Blind School students also joined the protest by staging sit-in-prtest at Takyel.
Shops and business establishment at almost all places including Khwairamband Keithel, Kwakeithel, Thangal Keithel, Paona keithel, Lamlong Keithel, Chingmeirong, Singajamei, Thoubal etc. remain close as a part of the protest.