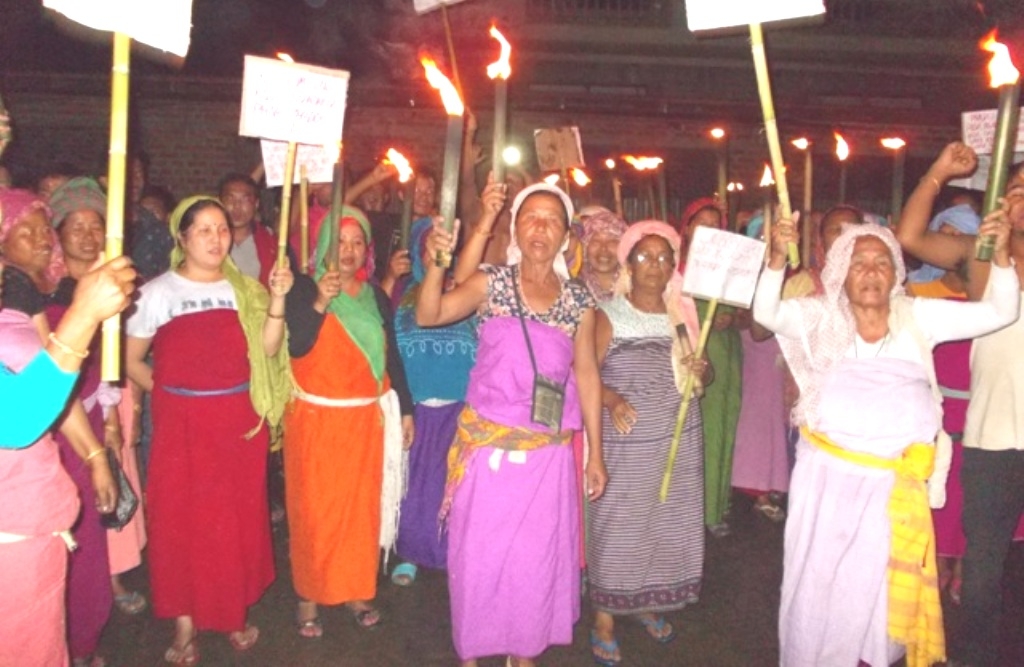 Even as the Okram Ibobi Singh led government has been trying all its effort to introduce another bill which will fulfill the demand of the people regarding the implementation of Inner Line Permit System in the state, there is no dearth to the protest for introduction of the act. Various local clubs, Meira paibi organizations and others staged sit-in-protest at various places in Imphal today. The protest also reached its peak at many parts of Thoubal and Bishnupur district.
At Wangjing, Waikhong, Thongjao and Elangkhangpokpi in Thoubal district large number of women folk and youths staged a torch rally at their respective area last evening. The rally was however, put under control by police team from going into worst.
At around 10 am today morning large number of people today staged a sit-in-protest at Lamphel Super Market area putting placards denouncing the government inability to introduce a legislation which will protect the life of the indigenous people of the state.
All Manipur Matam Eshei Kanba Lup (AMMIK) also staged a sit-in-protest at Tera Bazaar. Various renowned playback singers like Hamom Sadananda, Netachandra, Hamom Naba and other instrumentalists joined the protest.
Theater Mirror and Manipur Sumang leela Council also staged a protest at Iboyaima Sumang leela Sanglen imphal and observed a two minutes silence in respect of the departed student Sapam Robinhood.
Meanwhile, several organizations continue to condole the demise of late Sapam Robinhood. The student was killed in police action during a protest held on July 8. Various mera paibi lup from Pishumthong, Thangmeiband and Khurai area visited the house of the departed soul at Khurai Lairikyengbam leikai Imphal. They extended financial assistance to the family of the victim.
Sapamcha Jadumani, who is a leading leader of the ILP movement in the state also pay homage to the departed soul. People gathered at the resident of the victim observed a two minutes silence as a mark of respect to the departed soul.
Speaking to media persons Sapamcha Jadumani said that Sapam Robinhood has given strength to the people of the state to the demand of the people. He said the people will not make any U-turn until and unless the government passed a bill on ILP. He said the people will no more believed to the delaying tactics of the government.