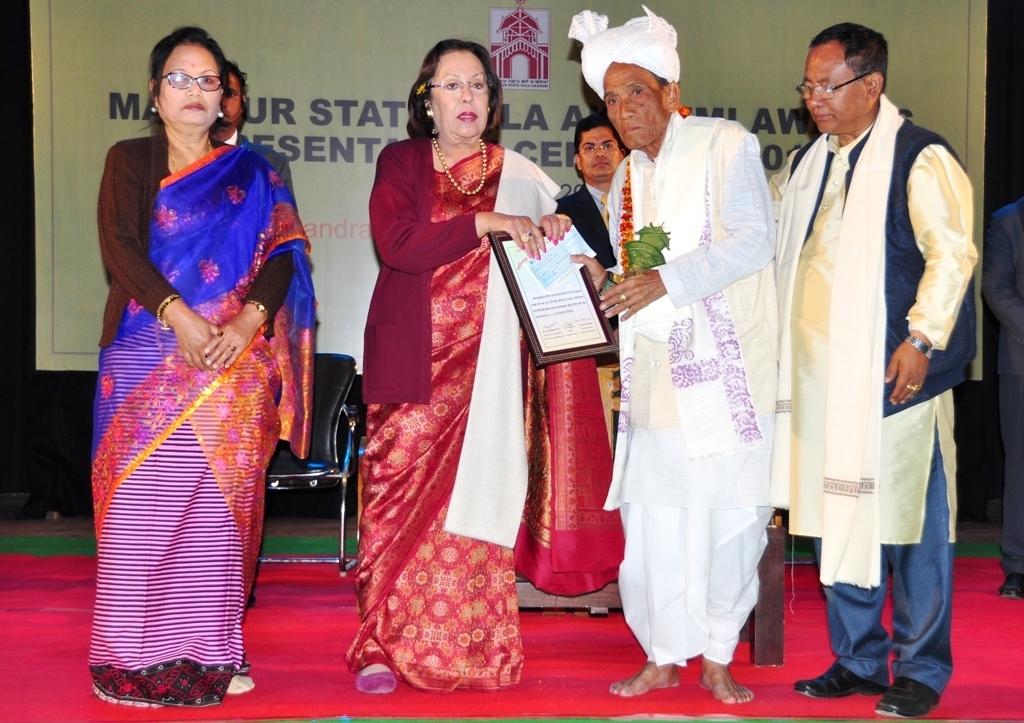 Imphal, Jan 28: Governor of Manipur and Chairperson, Manipur State Kala Akademi, Dr. Najma Heptulla today conferred Manipur State Kala Akademi Awards 2014 to the awardees at a function held at Maharaja Chandrakirti Auditorium, Palace Compound, Imphal, organised by Manipur State Kala Akademi, Manipur.
The Akademi Award 2014 including 2 Fellows and 6 Young Talent Award were presented to 27 (Twenty-Seven) Awardees by Governor Dr. Najma Heptulla, and President of the function, Shri L. Jayentakumar Singh, Minister, Art & Culture, Manipur and Vice Chairman, Manipur State Kala Akademi. The awards are conferred for their outstanding contribution in their respective fields of Dance, Music, Theatre, Shumang Leela, Thang Ta, Tribal culture, other forms of Art, Traditional, Theatre, Literature, Mime and Fine Arts.
Speaking as the Chief Guest, Governor Dr. Najma Heptulla congratulating the Akademi Awardees said that Manipur is renowned for its rich art and cultural heritage. The classical Manipuri dance – Raas Leela has put Manipur on the cultural map of the world. The Manipuri Nata Sankirtana, the ritual singing, dancing and drumming has been included in the representative list of UNESCO's intangible cultural heritage of humanity, she said. The Governor also said that the cultural mosaic of the state is extremely colourful owing to the large number of communities in the state with its own distinctive form of dance, music and dress.
She also stated that the Manipur State Kala Akademi was established by the Government of Manipur in the year, 1972 as an autonomous body and was the only cultural agency of the Government promoting and coordinating all the activities relating to Dance, Drama, Music, Literature, Fine Arts and other different fields of arts and culture. The Akademi has been making sustained effort for promotion, preservation and propagation of Manipur's rich cultural tradition within and outside the state since its inception. Besides organizing various cultural festivals pertaining to different art forms of folk and classical of both the hills and the valley, the Akademi also holds several promotional activities such as conferences, seminars, workshops as well as literary programs, memorial lectures and exhibitions, she added.
The Governor said that the awards symbolize not only the highest standard of excellence in their respective fields but also is the recognition of individual works for their highest professional accomplishment. She also expressed her confidence that the efforts of the Manipur State Kala Akademi will make a substantial impact on the preservation, promotion and propagation of the rich cultural traditions of the state and will continue to provide necessary encouragement to the scholars and artistes.
She further added that we must try to make Manipur known to the world by showing our rich cultural Heritage. Instead of depending on organization like UNESCO for recognition, we must put in our sincere effort to present our own art and culture and try to promote it to the rest of the country and the world.