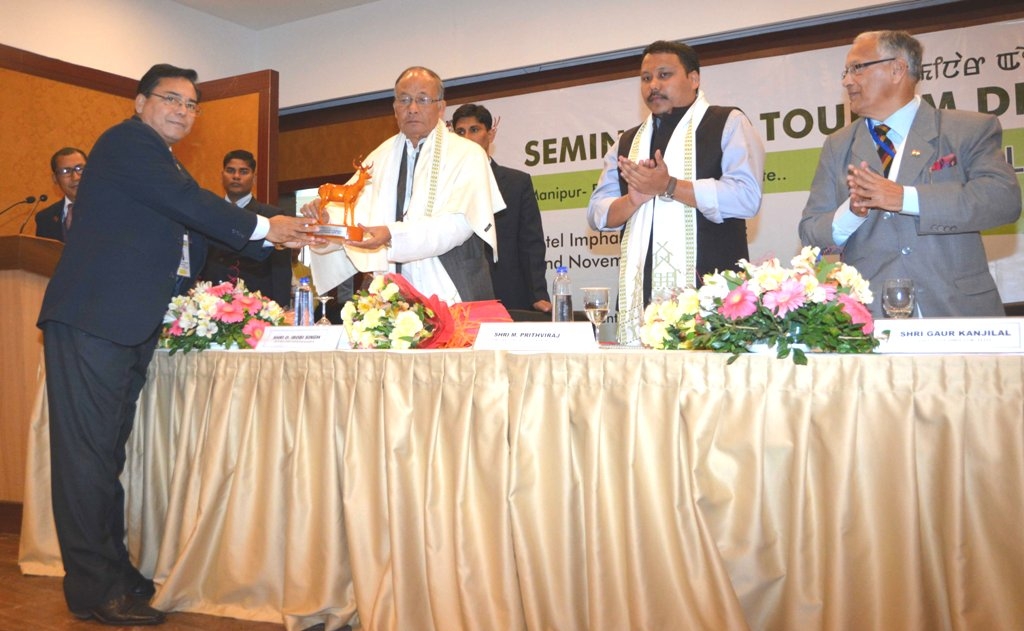 The Government is trying its best to develop Tourism as well as to improve Law & Order situation at one go. The government has acquired an additional 600 acres of land for the expansion of Imphal Airport (Now Imphal International Airport) by paying reasonable amount of money to the farmers which creates history in Indian aviation. This was stated by the Chief Minister of Manipur O. Ibobi Singh while delivering his Chief Guest address on a Seminar on Tourism Development under the theme – Manipur –Explore, Expand Excite sponsored by Department of Tourism at Sangai Hall, Hotel Imphal by the Classic being organized by Manipur Tourism Forum.
He further said that acquisition of land for airport expansion was meant for the future generation of the people of Manipur. The government is trying to accommodate the affected families of airport expansion in the Govt. Khasland. We are trying our best to have a better connectivity in terms of roads, railways and airways for the development of Tourism in the state. We have been urged the central government to invest capital to develop the basic minimum infrastructure.  2or 3 mega tourist infrastructure projects will also be completed on priority basis. He also urged the people to cooperate in the development of tourism in Manipur.
Speaking on the occasion as Guest of Honour, Parliamentary Secretary, Tourism M. Prithiviraj Singh said that God has bestowed upon Manipur the natural beauties such as Loktak lake, beautiful hills etc. The perception on Manipur has drastically changed in the last few years. The inflow of Tourist both domestic & International in the state have been increasing with the improvement of law and order situation. This year also the number of foreigner participating in the Manipur Sangai Festival 2014 is increasing while comparing to last year's Sangai Festival. He further said that our mindset needs to be changed. Since Manipuris by nature are very hospitable, we must always welcome the Tourist from outside. In this context Media should also play very important role in the development of Tourism in the State. We are also working on PPP models of some tourist infrastructures which are on the verge of completion in the next 2or 3 years, he added.
The Seminar was attended by President Manipur Tourism Forum Dr. Th. Dhabali Singh,  Executive Director of Indian Association of Tour Operator(IATO) Shri Gaur Kanjilal, Chairman , Dong Association Shri PK. Dong as President & Guest of Honours respectively. Delegates from different tour operators from North East were also attended in the Seminar.