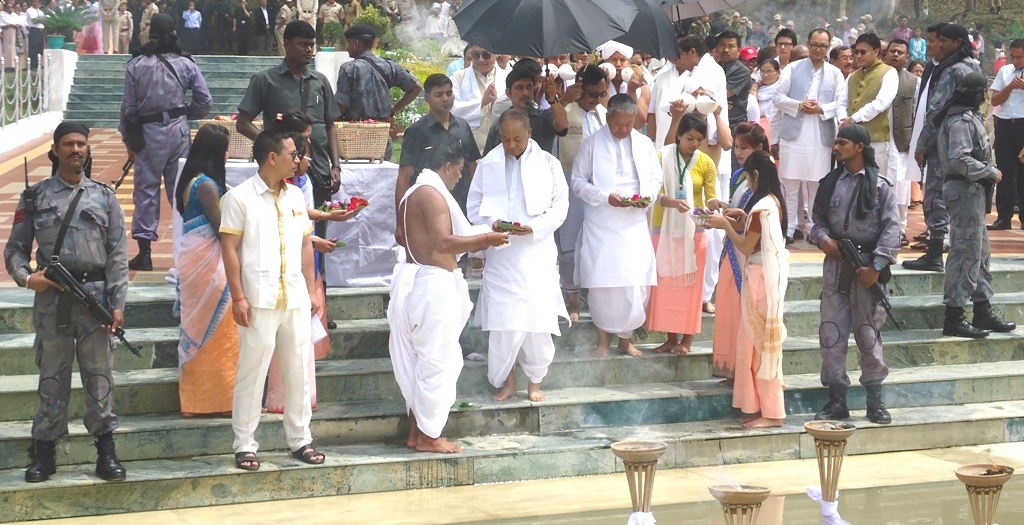 The departed souls who died in the battle of Anglo Manipuri war 1891 at Kheba ching,Thoubal was remembered today by offering floral wreath as a mark to condolence. The observance function was attended by top government officials, the chief minister of the state, O Ibobi, deputy chief minister, Gaikhangam, cabinet ministers, MLAs and other representatives of the civil society bodies. Rich floral tributes were paid at Khongjom War Memorial tower and the statue of the legendary patriot, Paona Brajabashi. A contingent of 1st MR personnel also paid gun salute as a mark of respect to the war heroes. Paying condolence to the freedom fighters, two minutes silence was observed.
Speaking on the occasion as chief guest, chief minister, Manipur, O Ibobi said that the Anglo Manipuri war 1891 is an important battle in the history of Manipur wherein many soldiers died while trying to save its nation from the British colonization. By paying tarpon to the departed soldiers, the chief minister said that the generation is making a promise to revive their spirit and love for the nation.
The chief minister condemned the recent blast at the main gate of Manipur University which left three injured. He asked if the person who targeted the blast got satisfaction through injuring civilian people. He said that the state government is working hard to make the Tupul railway functional by 2016 which is two years delayed from the targeted year. He said the Imphal railway is targeted to complete by 2018-20 and said the reason for the delay is due to continuous general strikes, bandhs, blockades called in the state.
Deputy chief minister, Gaikhangam, who presided over the observance function, said that the Khongjom day is being observed to remember the spirit of the freedom fighters who fought for its nation. The observation is to mark a promise to the departed souls that the same spirit and love for the nation will always be possessed by the coming generation. He said that the Anglo Manipuri War 1891 was not just a mere battle but was a symbol of integrity and unity among the hill and valley people.
The deputy chief minister further said that the chief minister of the state is all set to create the Khongjom war memorial, an attractive tourist destination alongside a pure platform for the history.