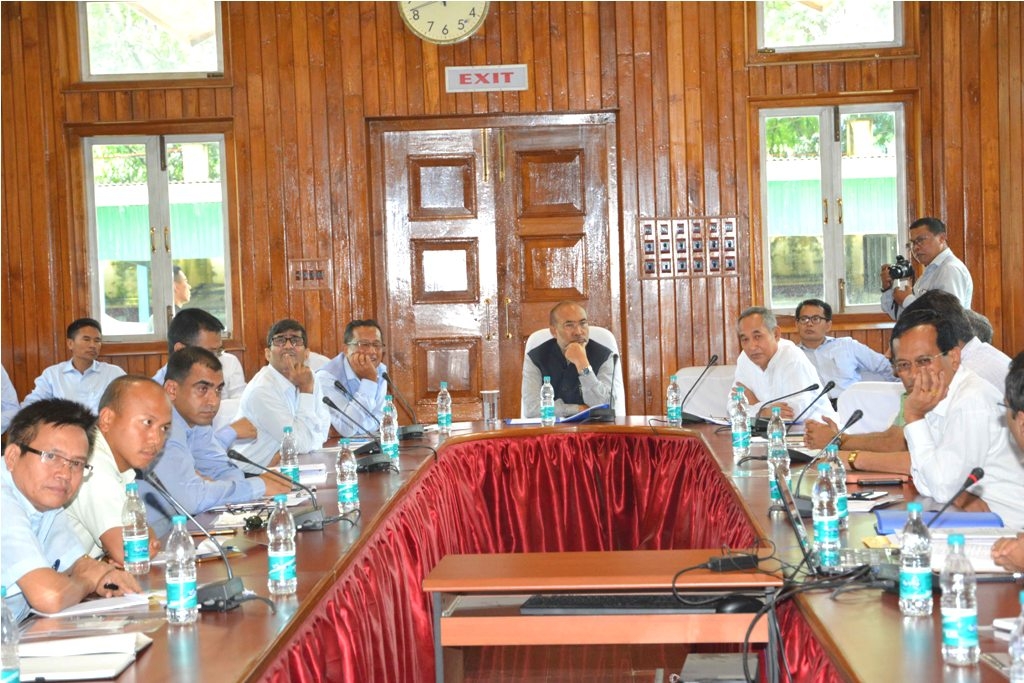 DIPR
Imphal, July 05: Chief Minister Shri N. Biren Singh presided a high level meeting on Goods and Services Tax (GST) in the Conference Hall of Old Secretariat today.
Speaking at the meeting, the Chief Minister directed all the concerned to have thorough knowledge about the new tax regime. He also asked them to impart proper awareness to the common people, who are at the grassroots level, to make revenue/tax collection easier.
The Chief Minister also directed the officials, DCs and SDOs to take the responsibility of revenue collection seriously and work hard at the ground level.
He said that the meeting was convened to discuss the pros and cons of GST, and also to find ways to effectively enforce it in the State.
As GST is a new concept, the Chief Minister observed, all the Government machineries need to work in better co-ordination and understanding for its effective implementation.
Deputy Chief Minister Shri Yumnam Joykumar Singh, Chief Secretary O. Nabakishore, Administrative Secretaries, Deputy Commissioners, SDOs and other high ranking officers were present in the meeting.
Later, the Chief Minister also inspected the biometric attendance machines and various rooms of the Old Secretariat complex.
Speaking to reporters after the inspection, the Chief Minister said that all the SDOs had been appointed as Nodal Officers of GST at the Sub-Division level.
As such, they would give proper awareness on the new tax regime to the people at the grass-root level, he added.
Stating that around 17 different taxes were imposed on goods and services at Centre and State levels earlier, the Chief Minister contended that all these taxes had now been clubbed together into a single tax known as GST.
No matter Prime Minister Shri Narendra Modi had revived the 90:10 Central – State share for North East States, all the developmental projects depend upon the financial condition of the State.
As such, the Government needs to strengthen and revitalise the tax/revenue collection system in order to add extra pace to development, the Chief Minister stated.
Responding to a query on the Central Government's assistance regarding flash floods faced by the State, Shri N. Biren said that after the Government declared the present situation as a State calamity, he had not only written a letter to the Prime Minister but also personally talked to Union Home Minister Shri  Rajnath Singh over the phone on the issue. The Central Government would send an official team to assess the losses.
Responding to another query, Shri N. Biren informed that State's Plan size would be fixed as soon as possible.
The new Government would give thrust to skill development, connectivity, infrastructure, drinking water and other basic amenities, the Chief Minister added.