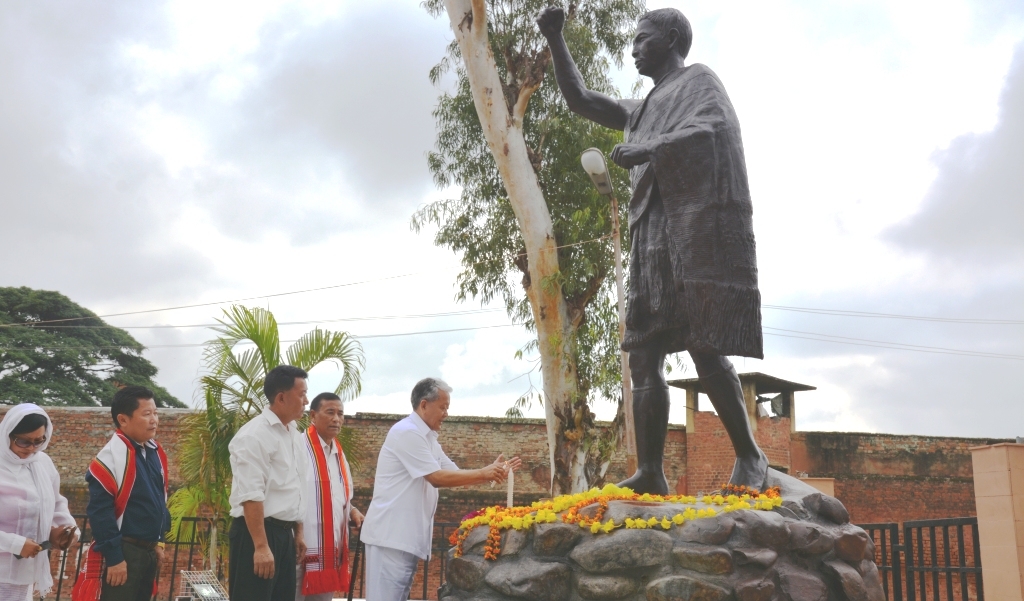 DIPR
Imphal, Aug 29: The 85th Martyr Day of Haipou Jadonang was observed today at the Haipou Jadonang Park located at Keisampat in Imphal. The day was observed in commemoration of the hanging of Haipou Jadonang, one of the pioneer freedom fighters of India, by the then colonial Britishers on this day in 1931. The observance of the day was organised by the Haipou Jadonang Statue & Park Development Committee, Manipur.
Deputy Chief Minister Gaikhangam, who was present at the observance, paid floral tribute to the statue of the legendary freedom fighter. A two-minute silence was also observed as homage to the departed soul of Haipou Jadonang. During the observation, Haipou Jadonang Prayer Hymn was also presented as a dedication to the celebrated freedom fighter.
The observance of the day was also attended by Deputy Mayor of Imphal Municipal Council Maibon Phaomei, Chairman of Haipou Jadonang Statue & Park Development Committee, Manipur, Ph. Thambaljao and Rajita Golmei, Member, Manipur State Women Commission amidst the presence of several people from the Zeliangrong community.
Born on 10 June 1905, at Kambiron village of the present day Nungba Sub-Division, Haipou Jadonang grew up as a deeply religious person since his childhood.  As he grew up, Jadonang saw the growing influence of Christianity in Naga territory as a sign of foreign imperialism. He considered it a threat to the traditional religion and society of the Nagas. He urged his people to fight for national prestige and social change.
Besides religious aspects, Jadonang movement had a political aim; he wanted his people to unite against the colonial British forces. In January 1931, the British received reports that Jadonang was planning to declare war against them by the end of that year. They decided to suppress his movement permanently. On 19 February 1931, he was arrested and imprisoned at Silchar, and a month later on 19 March that year, he was brought to Imphal. On 13 June 1931, Jadonang was declared guilty of the murder of four traders at his native village, and subsequently on 29th August, 1931, Jadonang was hanged to death on the bank of the Nambul River, behind the Imphal Jail, at the very place where his statue stands today. Since then, this day has been observed as the Martyr Day of Haipou Jadonang.