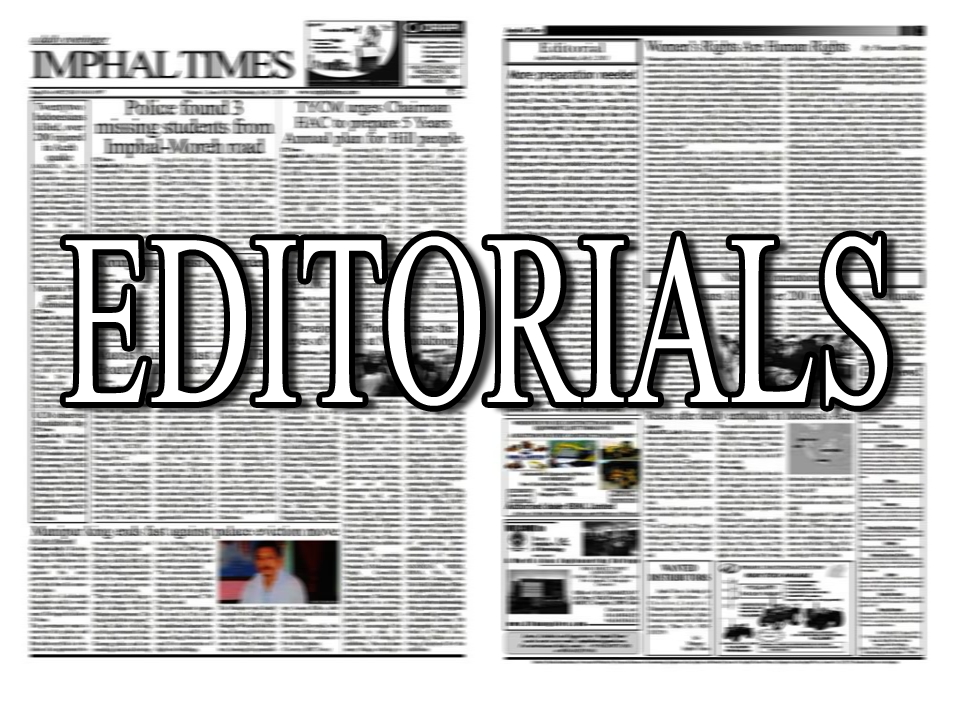 The exceptional are no longer trustworthy. Man by nature first think of himself, then his near and dear one and later friends and for others (if he is willing to spare time). But there are few exceptional who breaks the natural instinct. These people think of others first and dedicated their whole life for the good and welfare of others.
Times have gone that people prefer the few exceptional people. The largest democracy now have more respect and regard for those people who take extra care for their near and dear one particularly of their children. Those who build good houses; sent their children to the most costly schools and colleges and can afford luxurious vehicles for their wards and family are the one whom people trusted. The second group of people who are being referred as exceptional have no seat in the society. They are often term unsuccessful people as they have failed in making their family – a stable life. In traditional Manipuri society, these exceptional people are called – "Leikaigi Ibungo Yumgina lemakhak" which literary means man for the locality and a hopeless one for family.
Another facet of this country, which is proud of being the largest democracy, is that those who play big game to hijack or in other words loots the public property have high respect. But some poor fellow in need of food who was caught stealing to fill his stomach are insulted, assaulted and humiliated in the most inhuman way. In Imphal, small time home made liquor traders are caught and punished by local activists when big liquor traders are left unnoticed even after seeing them selling the prohibited stuffs in open market.
Election time is knocking at the door. Peoples' mindset and small talks heard at almost every corner of the state now showed some anti-incumbency factor of Chief Minister Okram Ibobi Singh led congress government who is completing its third term. People now see BJP which got massive victory in the last Parliamentary election as the only alternative. It was no surprise that the party which was never popular in the state is now flooded with many heavy weight politicians, big contractors, businessmen, retired government officials aspiring to become MLA in the Manipur Legislative Assembly. The coming of the successful persons in their respective field depending upon their bank account has left the exceptional die hard political workers of BJP.
The rumours, which is at some extend believable has left some dedicated old timer workers of BJP frustrated and helpless as they had sacrificed most of their time without caring how much is left to their bank balance.
Every political party, aspiring candidates and the common people's priority for election is bank balance of the candidate fighting the election, yet they claim as crusaders of anti-corruption.
Buying of vote with a mere amount of rupees 1000 or 2000 is an open secret. Besides, the state had witness candidates spending money for election feast, tips for meira paibis etc. etc.
And for this reason it is sure that every political party are now looking for winnable candidate who have good bank balance and power. So as the BJP.
The anti-incumbency factor of Congress government has made the BJP as the choice and as election is knocking at the door, it is likely that many congress MLAs and even Ministers are likely to joined the BJP and the BJP too will welcome these MLAs or Minister as they need number.
What is needed to discussed here is the main agenda of the BJP in Manipur. It is not about banning of cow slaughter or Hindunization of the state like it happened at some fanatic states in Northern India. In Manipur it is the 'corruption' issue that pull up BJP at this issue. The party's exposures to various irregularities and fund misutilization by the Ibobo led Congress Government that people started believing in the political party.
But one thing worth noting here is that – is it the congress party that is corrupts or those in the congress that is practicing corruption? Even an illiterate person will know that it is those in the party and not the party that is spoiling the image of the party.
This is why if those men or women who are with the ruling government are allowed to contest election in the forthcoming election then there is no reason that we the people have to trust the BJP as it will not make any differences with the present ruling government. It will not make any difference to the old saying – "Old Wine in the same bottle".