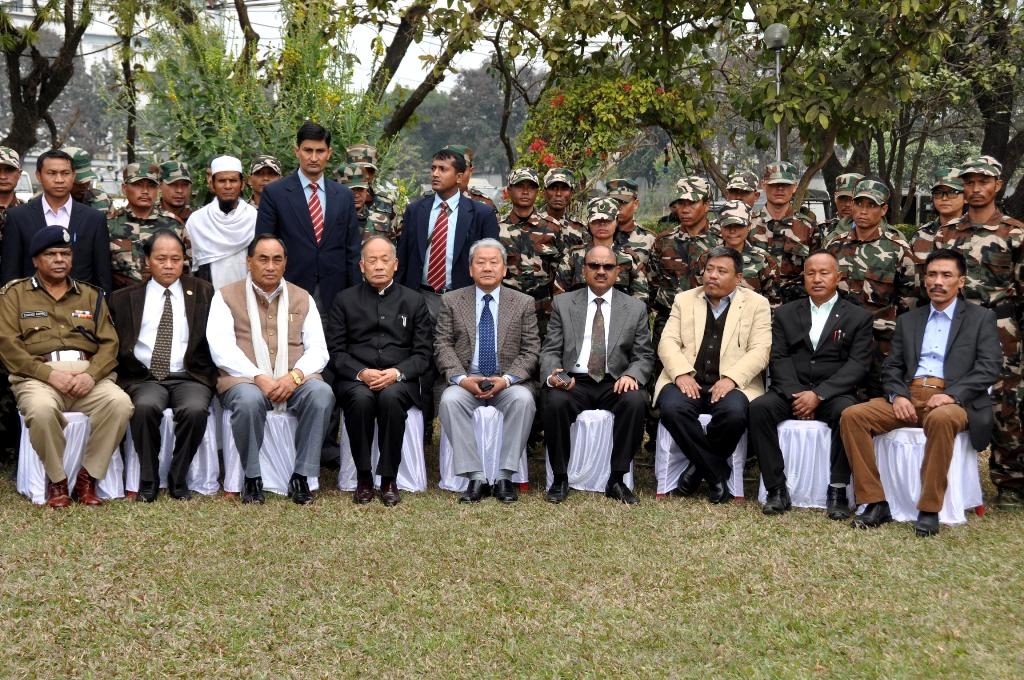 57 cadres of the three rebel groups today laid down arms and surrendered to the government. Those surrendered today includes Chairman KK Nganba of KCP, Chairman Nabachandra of PREPAK and its finance secretary Chinglen. Among the 57 cadres surrendered today 20 were the cadres of KCP-MC Nongdrenkhomba group who had already signed Memorandum of understanding with the government on September 9, 2013. Chairman of KCP, KK Nganba @ Ch Manglemjao laid down arms along with 34 other cadres of his group while no cadres associated the Chairman of the PREPAK Nabachandra and his finance Secretary Chinglen during the home coming ceremony.
Sophisticated arms and ammunitions surrendered by the militants were displayed to the press.
Welcoming the cadres, Chief Minister Okram Ibobi said that violence will bring no solution to any kind of problem. He said there may be some differences between the government and rebels but the differences can be sorted out through negotiation and a peaceful manner.
He said the government will look after the demand put up by the different rebel groups which had entered peace deal with the government. He hints for setting up of a Manipur regiment in the basis of the IRB to absorb the qualified surrendered militants.
The Chief Minister further added that some anti social element still wanted to sabotage the peace process being chosen by the rebel leaders. "May be some left over cadres want to sabotage the peace process so that blasted bombs killing innocent lives", O Ibobi added. He was referring to the blast that took place at Thangal bazaar when the home coming ceremony of the rebel group was held.
Deputy Chief Minister Gaikhangam, who is also in charge of home while speaking on the occasion, said that the shunning of violence by the rebels is a fortunate part of the government as well as the government. Their coming to the mainstream will bring prosperity to the state.   
DGP of Manipur, IGAR (S), Home Secretary and other top officials of the state government were present in the home coming ceremony.