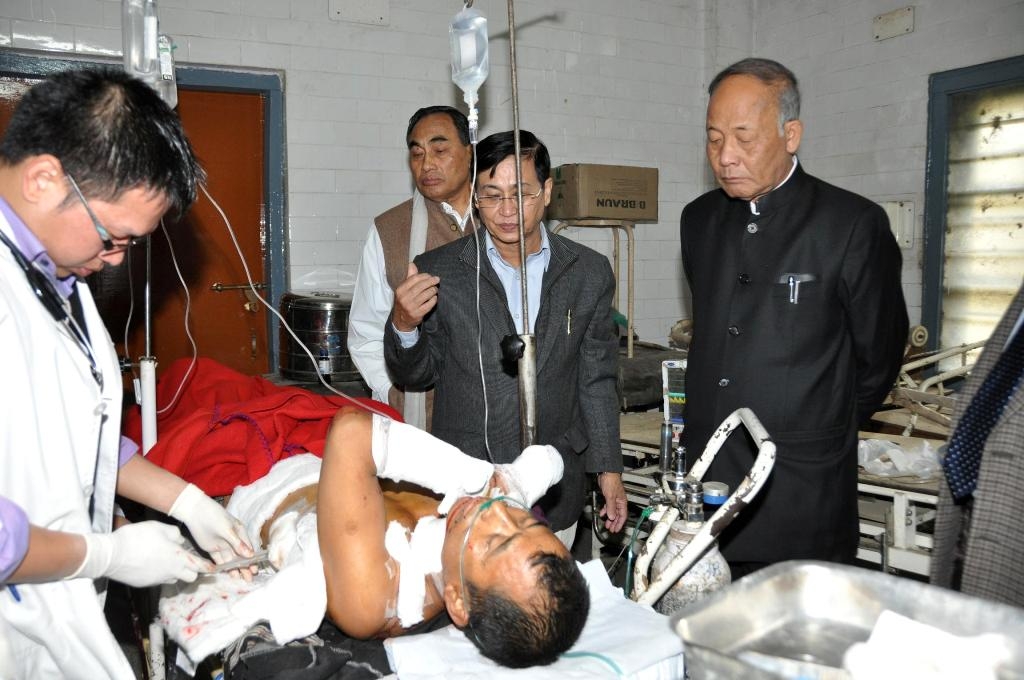 At least one person was killed and 5 others were seriously injured after a powerful bomb blasted near a shop at MG Avenue at around 11 am today morning. Interestingly the blast site is just some few metres away from the Imphal city police station and both paramilitary forces and state force were deployed round the clock as security duty of SBI which is located in the close proximity of the blast site.
Report said the bomb seem to have been planted inside a betel leaf basket at RS godown near Delhi Motor Shop at MG Avenue. A person identified as Ramesh Sahani (30) died on the spot due to the impact of the blast.
Those injured in the blast are Bikash ( age15), son of Rajinder Sahani of Bihar Sitambara, Sunder (age 48) son of Ramdarish Sahani of Bihar, Sanjoy (age16) son of Rudal Sahani of Sitambari Bihar, JoyLal Shah (age 40) son of Saricharan Shah of Bihar and Leishangthem Jilla Singh (age 48) son of late Gobordhon of Thoubal Leishangthem. Except for Jilla Singh all the injured were betel leaf seller.
The injured were immediately evacuated at RIMS hospital and are presently undergoing treatment. Two among them are said to be in critical condition.
Chief Minister Okram Ibobi Singh and Deputy CM Gaikhangam visit the injured at RIMS hospital. Speaking to media persons CM said that such act is most cowardly act and will bring no good to the people.
Interestingly the blast occurred when a home coming ceremony was held at 1st MR Banquette hall.