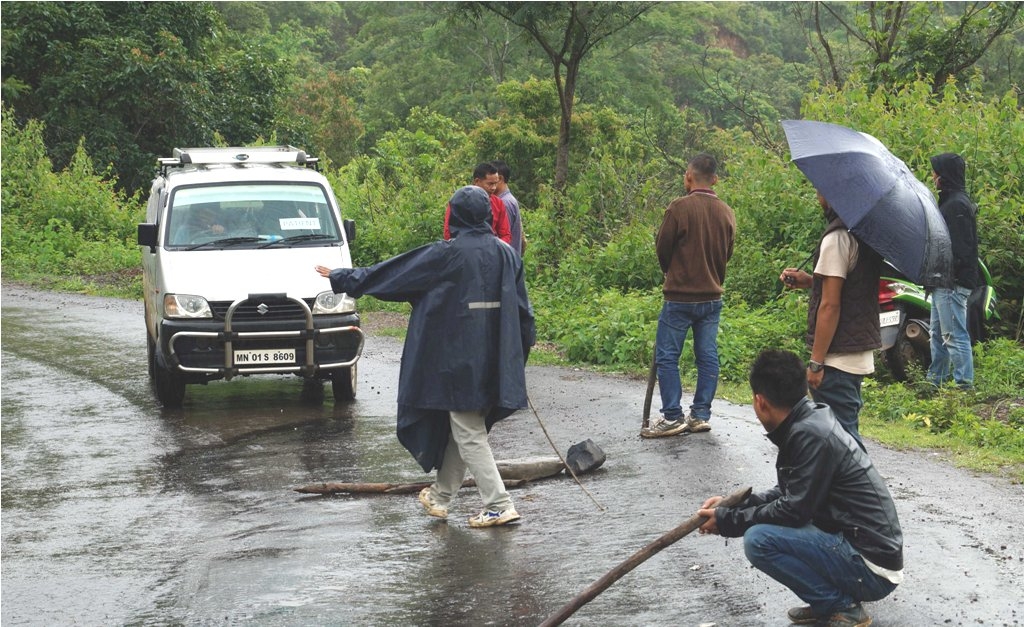 The 24 hours general strike in Hill district called by Naga Peoples' Front (NPF) in protest against state government failure to constitute ADC has crippled normal life in almost hill districts of the state. According to report reaching here, normal life in Senapati, Ukhrul and Tamenglong district was totally shut down. Shops and business establishment were down shutters in all the three district head quarters and vehicular movement both passenger service and state service were also put to a complete halt. However report reaching here said that the bandh is that effective at Churachandpur district. 
Letmang Haokip added from Chandel
Normal life in Chandel District have been severely affected today by the State wide 24 hr total bandh called by the Naga People's Front (NPF) Manipur Unit, called against the failure of the State Government in issuing necessary notification for formation of the Autonomous District Council.
Vehicular movement along Imphal-Moreh section of National Highway 102 and Chandel District Headquarters road from Pallel came to grinding halt as the volunteers of NPF enforced the bandh by laying of woods and boulders on the road at several locations.
Braving the monsoon downpour, Large numbers of bandh suporters blocked the Imphal-Moreh road near Thamlapokpi, Pallel-Chandel road at Liwachaning, DC Lamkhai, Kanankhu Lamkhai and Panchai Village Lamkhai in District Headquarters, Machi sub-Divisional Headquarters road at Tuishimi.
During the bandh, Chandel District Headquarters and Chakpikarong Sub-Divisional Headquarters wore a deserted looks as shops and business establishments down their shutters. And government offices recorded low attendance in the District headquarters and Sub-Divisional Headquarters due to the total bandh.
However, emergency Services including vehicles carrying patients and religious related vehicles were allowed to proceed as they were exempted from the purview of the bandh.
Briefing the media persons, NPF Chandel Division's President Ts. John Molarsing told that the bandh was enforced as the State Government failed to issue necessary notification for forming Autonomous District Council (ADC) in the Hill Areas even after the lapsed of more than one month of declaring the election result.
Questioning the reason for delaying the formation of Councils, the Divisional President of NPF questioned that is the State Government delayed the formation, because of the fact that  Congress party could able to form the Councils only in Sadar Hills. Such delaying tactics of the State Government for unable to forming the District Councils by the Congress party should be strongly condemned,  he added.
Further, Molarsing also maintained that State Government should install ADC in the Hill Areas of the state at the earliest.