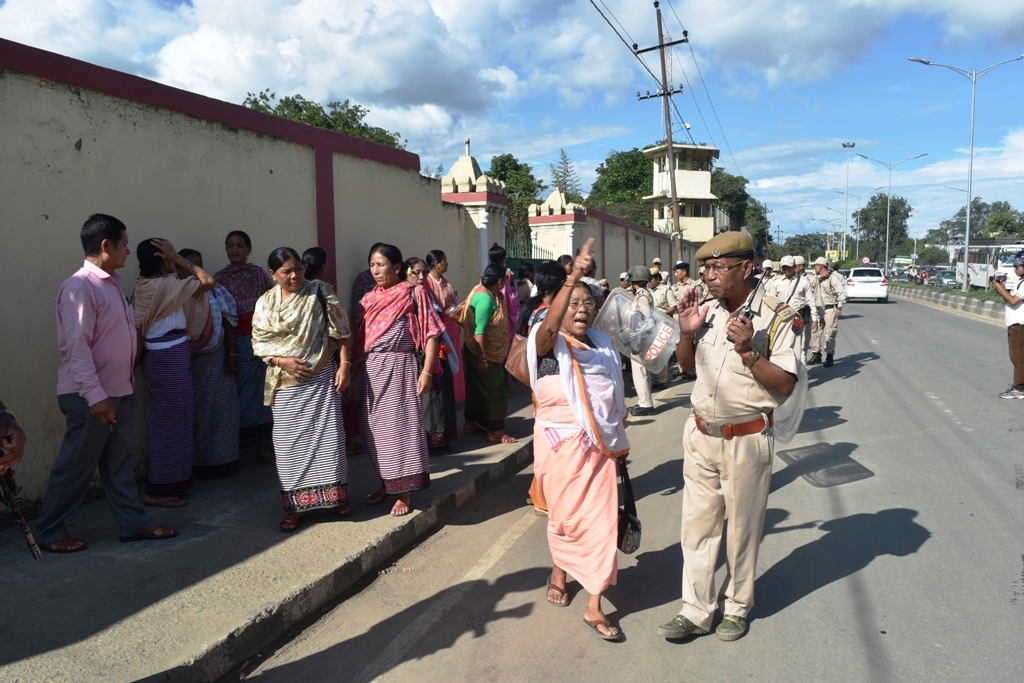 IT News
Apunba Meira Paibi of Thangmeibandh area has staged a sit-in-protest at Thangmeiband DM College Road today, demanding release of the two accused arrested in connection with the suspicious death of Yaiphaba Mutum.
Speaking to the media persons, Wahengbam Naobi, Secretary of Poirei Leimarol Branch Meira Paibi of Thangmeiband Lourungpurel and Kabrabam Leikai said that locals of Thangmeiband area also condoles to the suspicious death of Yaiphaba Mutum but condemn the incident that occurred inside the Chierap Court premises at which some of the JAC members tried to take the law in their hand.
Wahengbam Naobi also said that putting blame on someone with a baseless cocks and bull's story and without any evidences is unacceptable. The two accused that were produced in court in front of CJM I/W yesterday where they have been remanded judicial custody for 15 days must be release without any conditions, she added.
Wahengbam Naobi also warned the JAC to clarify over the use of abusive words to the women folks of Thangmeband abd Khuyathong area on or before September 25.
It is very disappointing to see Yaiphaba JAC spreading concocted story of the incident to the press and media persons even to the Judge during the trial which do not have any specific point to say that the two accused were the one who have committed the crime.
"Let the law handle the case. Do not blame the two accused without any proof and evidence", she added.
Apunba Meira Paibi of Thangmeibandh area will commence a strong agitation and protest if the two accused are not release immediately without any conditions, she warned.
On the other hand, during the time of the incident the two accused Khuraijam Tohen Meetei, 21 years, and Khuraijam Thoison Meitei, 18, son of K Thanmi Singh, residence of Thangmeiband Kabrabam Leikai were present at their home and they did not have any connection with the incident, said a family member.
On which ground family members and the JAC are charging Tohen and Thoison that they had committed the suspicious crime. Why they did not mention one person identified as Kabung who actually was the close friend of the deceased and was seen day before Yaiphaba dead body was found at Khuyathong Pukhri Achouba.
Apunba Meira Paibi of Thangmeiband area appeals the concern to look into the case thoroughly so that the actual murderer could be put behind bar not someone who has not committed the crime.
Yaiphaba Mutum (21) s/o Mutum Kohay of Singjamei Chingamakhong Chongtham Leikai was found dead in a suspicious condition at Khoyathong Pukhri Achouba on the morning of September 15. His death sparked controversy with the family claiming that he was murdered.