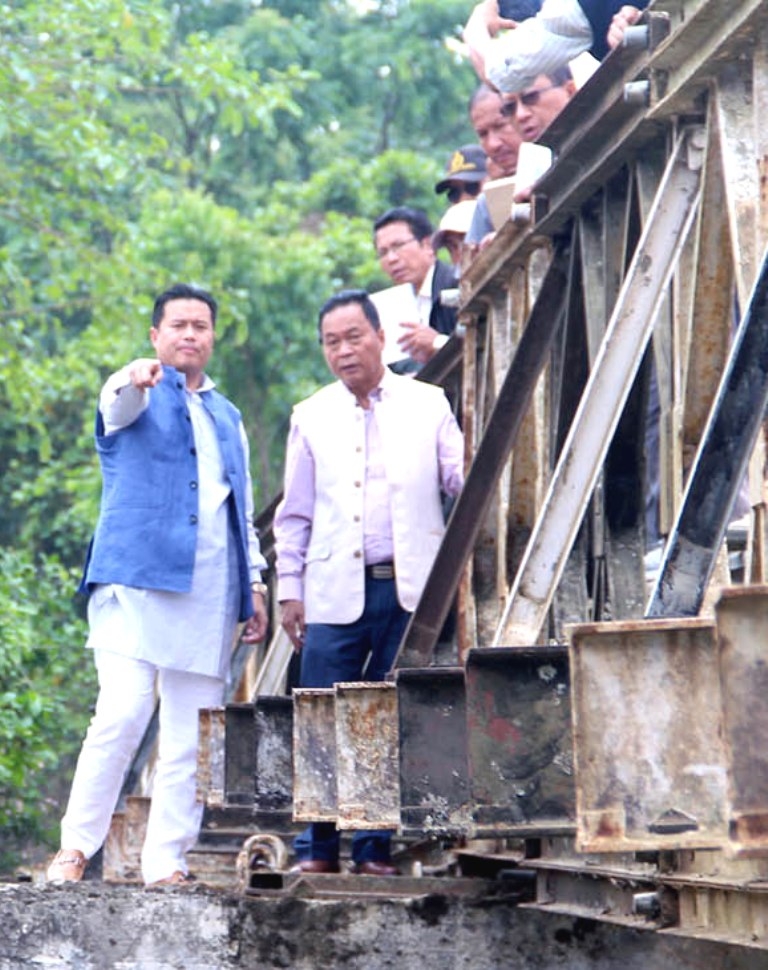 Imphal, April 16,
Works Minister Thongam Biswajit Singh today inspected two bailey bridges at Motbung and Saparmeina in Kangpokpi District. The Bailey bridge at Motbung built across the Imphal River along the Pukhao – Kanglatombi Road is an important bridge for the local populace, however, it was washed away during the 2015 flood. Since the bridge acts as an important connectivity means for the local villages, the people has constructed a footbridge nearby the bailey bridge for the people of the either side of the river to commute.
Speaking to media persons at the bridge site, the Minister said the damaged bridge has been left neglected for long. If the weather permits, construction of a new bailey bridge will be included in this year's work programme and work started at the earliest to replace the old one, he said.
Meanwhile, clarifying on certain issues pertaining to the repairing work at Koubru Leikha stretch of the Mao-Imphal National Highway, the Minister said that owing to the foreclosure of concern contractor, repairing work at the road stretch is being carried out under Ordinary Repairing sanctioned by the Central government.
Minister Biswajit was also felicitated by local organisations at Motbung during the inspection visit. In his speech, the government spokesperson said that the government is committed to improving road connectivity in the state. He further assured to improve the road quality in the area in order of priority.
Later, after inspecting the Saparmeina-Saikul Bailey Bridge built upon the Imphal River, the Minister instructed the accompanying PWD engineers to initiate repairing of the bridge at the earliest. During the inspection visit, the Minister was also accompanied by Saitu A/C MLA Ngamthang Haokip concerned department officials and local village chiefs.