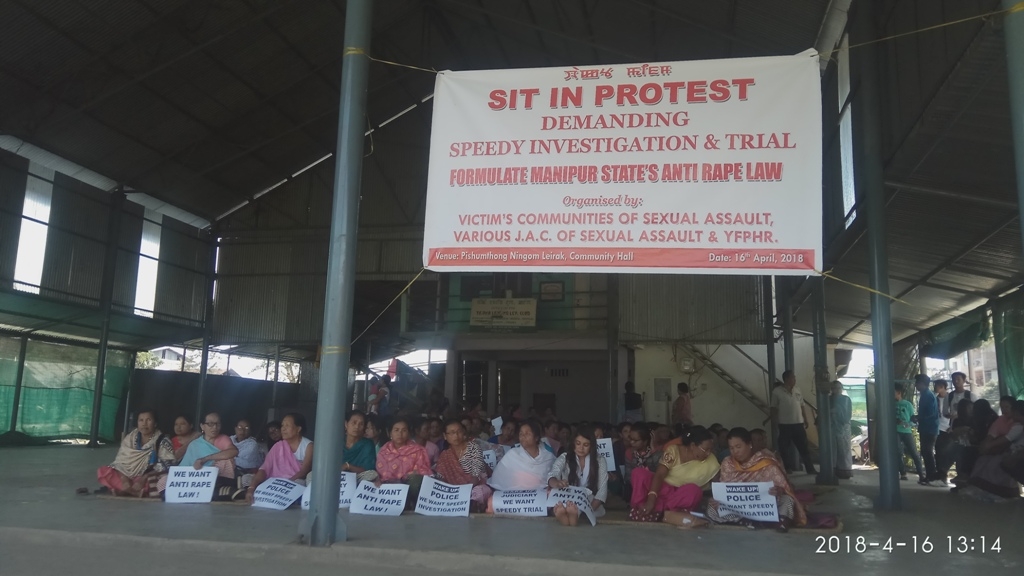 Imphal, April 16:  
Victims communities of sexual assault, various JACs of Sexual Assault and Youth Forum for Protection of Human Rights (YFPHR) today stage sit-in-protest at Pishumthong Ningom Leirak, Community Hall demanding Manipur State's Anti Rape Law for speedy investigation and trial of the accused.
Speaking to media persons, Wahengbam Premila Devi, Member of JAC of Sexual Assault said that whenever the public took out protest against any crimes against women in the state, the government remained silent waiting to die the protest after being exhausted.
So many sexual crimes have occurred in our state but still the government fails to take up any proper action to award justice to the sexual victims, she added.
Premila also said that the government should act without any biasness irrespective of what political parties they belong to award speedy punishment to the culprits who committed crimes on women and children.
She demanded to speed up trial for all crime against women and children related case.  
The current punishment by the law of the land which is sometimes, one month, six months and hardly one year to the culprits who have committed various crimes against women and children is unsatisfactory.
Laws are made by the government and a new law for the sexual assault should be put among the previous law for crimes against women and children so that the victims and their families can get the justice, she added.
It may be mention that the Delhi Commission for Women (DCW) chairperson, Swati Maliwal is on hunger strike demanding death penalty for rapist since Friday.
At  Kangla Western Gate, too, similar protest was staged.  Merina Konsam, Secretary Women Wing YFPHR said that though the state government has launched various public schemes, but fails to provide any safety for women and children.
15 rape cases has been file since the beginning of 2018 but state government have not taken up any proper initiatives to provide justice to the victims and their families, she added.
Merina also said that promising for various safety steps for women during the election campaign to woe votes and after vote not even considering is injustice for the women folk.
"Are the women of Manipur not women like other women of outside states? Is the "Beti Bachao, Beti Padao" scheme for the BJP led Government is to rape women and children? Is our government waiting for our girls to be rape to take action?" Merina questioned.
Later, a protest rally was staged from Pishumthong Ningom Leirak, Community Hall demanding justice for the victims and to set up anti-rape law. They were supposed to throng at Chief Minister's Office they were stopped by a large number of police at Moirangkhom and force them to turn back.