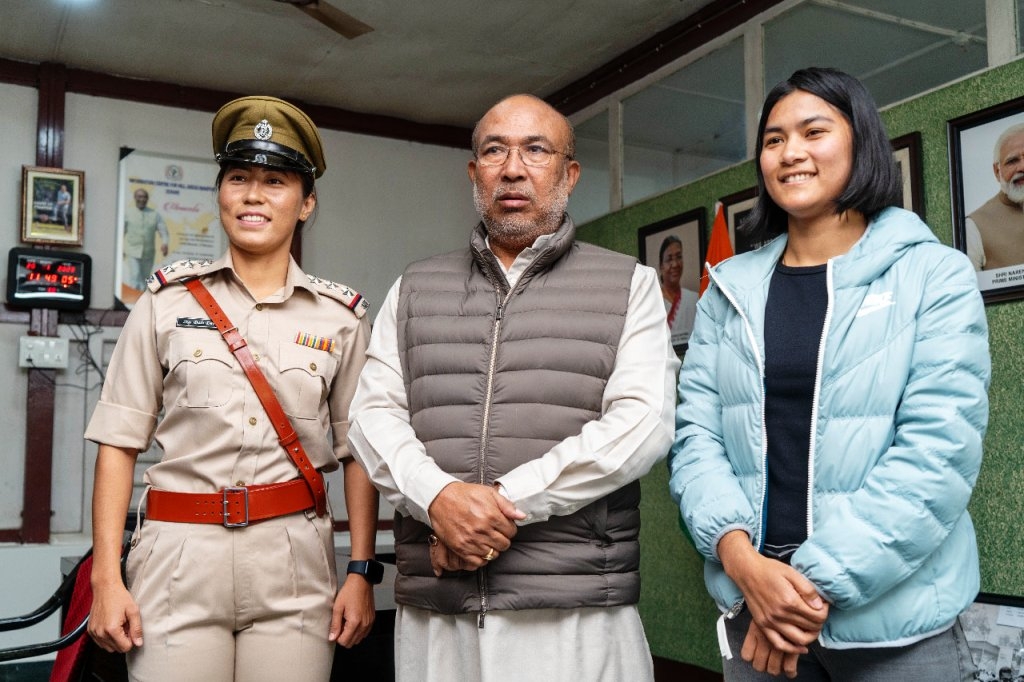 IT News
Imphal, Jan 20:
International footballer Ngangom Bala and Goalkeeper of the Indian Football Team, Elangbam Panthoi was honoured today at the Chief Minister's Secretariat today by the Chief Minister of Manipur, N Biren Singh. Bala was honoured by appointing her to the post of Inspector of Manipur Police.
The State government has been honoring the state athletes, sports players, and Olympians for bringing glory to the nation and the state, CM Biren said.
It may be mentioned that Bala Devi was the first footballer from India to play for a European Club. Also, she was the first woman footballer from India to secure a contract with a foreign club, Scottish Club Rangers FC in January 2020 for a period of 18 months which was extended for another six months recently. Bala Devi currently holds the name of the highest goal scorer of the Indian Women's Football Team and was named twice the All India Football Federation Women's Player of the Year in 2015 and 2016. She was also named the AIFF Women's 'Footballer of the Year' , for the year 2020-2021
Chief Minister N Biren Singh said, " The state government of Manipur has been encouraging and honouring the homegrown athletes, players, and Olympians for bringing laurels to the nation and Manipur."
The Indian Team forward, Bala Devi who plays for Eastern Sporting Union expressed her gratitude to the Chief Minister of Manipur for her appointment as an Inspector in Manipur Police, recognizing her contribution to the field of sports.
The People's Chief Minister has been giving jobs to players thereby encouraging and acknowledging their contribution when it is very difficult for players in groups to land a proper Government job, she said.
Panthoi, who currently plays for Eastern Sporting Union won the Indian women's League Best Goalkeeper for the year 2017-2018 and in December 2022, underwent training cum trial along with Bala Devi at Spain at the Spanish Segunda Federation outfit Malaga.