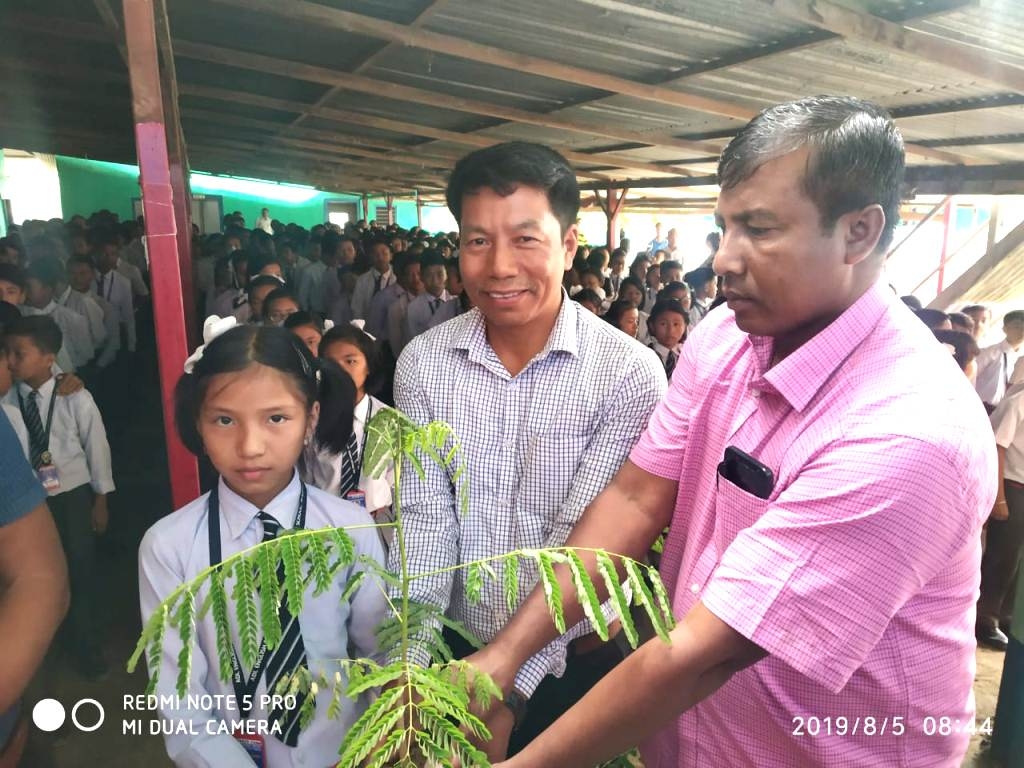 IT News
Imphal, Aug 5,
Valentina's love for trees not only touched the heart of thousands people of the state but her love for trees today gives respect to the school where she studied and her parents.
"A child is known at its cradle", said Munal, Range Forest Officer, Chandel Soil and Water Conservation, in a function organised at Amutotombi Divine Life School to honour her.   Munal further said that a child's character is the mirror of its family and its school.
He said while bringing up Valentina to love that much for plants, it was not only her parents but the school where he studied and its teachers that are having the equal contribution to her love for Plants and Nature.
"We hope that the same instinct for love of plants are also with the remaining other students of the school", he added.
Munal congratulated Elangbam Priyokumar Singh, father of E. Valentina along with the teachers and school authority.
"Amutombi Divine Life School, the name itself with Divine means pure and dedicated life, has a great part to shape in such instinct and curiosity for loving the plants by its students. We have witnessed that Valentina was weeping with broken heart as if her own loving mother or father or any one of her family members was just dying.
The message that such feeling gives us is not less than the message given by the world famous Chipko movement initiated by Chandni Prasad Bhatt and Sunderlal Bahuguna,  and Navandaya movement by Vadana Shiva etc.", Munal further said.
He further said there are many dedicated environmentalists like Jadev Payeng, the maker of Majuli, the largest River island in the world, M.C.Mehta, the Green Advocate, Rajendra Singh, the Water man of India who did alot for water conservation in country, Medha Parker of Narmada Bachao etc. There are also many more re-known environmentalists who dedicate their live from different fields to save the environment.
"I hope that E.Valentina will never be less than to them. We pray to almighty for Valentina to reach that much height. I hope that E. Valentina would also be having 100% love for the animals and other living beings also. So we hope that every student in this school are also having the same level of love and care for plants and animals", Munal said.
Range Forest Officer, Chandel Soil and Water Conservation also distributed 1000 seedlings to each of the students of the school. He requested the students to plant the trees with the same love and care just like themselves and their own father or mother.
Munal also handed over a small sum of Rs. 1000/- to E. Valentina Devi as token of love in recognition to her love and care for plants.
MD.Salllaudin,, Dy. Ranger, Forest Beat Officer, Pallel, W. Ramchandra Singh, Honorary Wildlife Warden, Thoubal also attended in today's occasion.