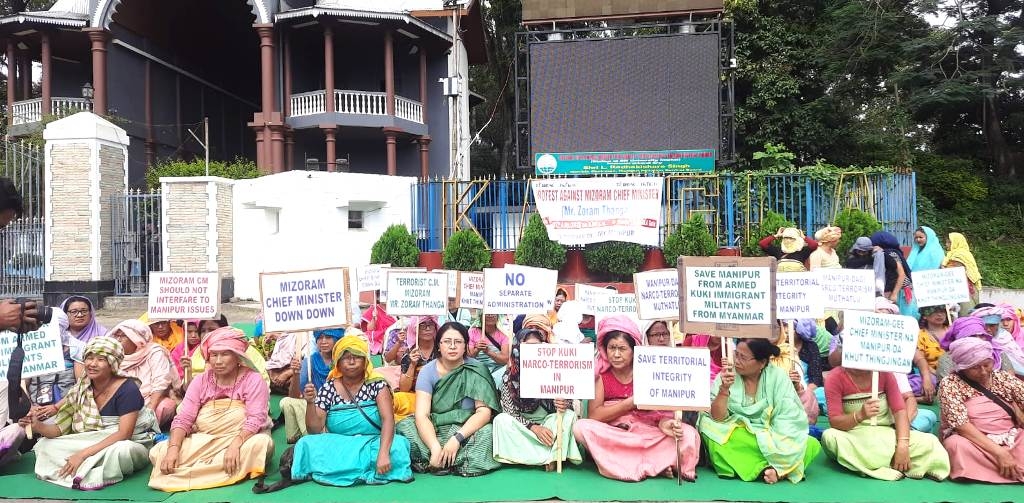 IT News
Imphal, July 27:
Even as there are reports of humiliating Manipur Chief Minister N. Biren Singh in the protest rally organized at Aizawl recently and effigies of CM Biren Singh burnt by protestors in his state without any hindrance from their state police, Manipur Police today foils an attempt to burn effigy Mizoram CM at Kangla her in Imphal.
In an unexpected manner, an officer from Police Department snatched away the effigy of Zoram Thanga, the CM of Mizoram from the hands of protestors gathered at the Western Gate of the Kangla Fort on Thursday afternoon and foiled the effigy burning attempt of Mizoram's Chief Minister.
The incident occurred around 2:30 pm when the protestors under the organizationship of "My Manipur" were trying to burn the effigy of CM Zoram Thanga over his provocative statement on N. Biren Singh and dismantling the latter's reputation.
Speaking on the occasion, Mangangleima Salainganbi – spokesperson – My Manipur, said that the organization and the people of Manipur condemned CM Zoram Thanga's statement on CM Biren People's CM. She said the Mizoram CM should not interfere in the internal matters of Manipur. Manipur has a government of its own and has its own administration. Zoram Thanga mustn't cross his line.
CM N. Biren Singh, continued She, is a popular Chief Minister and works all day long for the welfare and safety of the people and mother Manipur is enforcing War on Drugs, Destruction of Poppy plants, and measures to protect Reserved and Protected areas. However, Mizoram's Chief Minister is against Border fencing along the Indo-Myanmar border. He is also supporting the illegal immigrants from Myanmar. But this only indicates his support for poppy plantation and narco-terrorist acts in North East.
Zoram Thanga is instilling hatred among the seven sisters in North East India and trying to disintegrate the seven sisters, added the spokesperson.
Further, the protestors demanded immediate implementation of NRC in Manipur, Expulsion of illegal immigrants from Myanmar, and end of Narco-Terrorist Activities in the region.
Likewise, series of protests erupted at every nook and corner in Imphal Valley against Zoram Thanga over his bad comments.