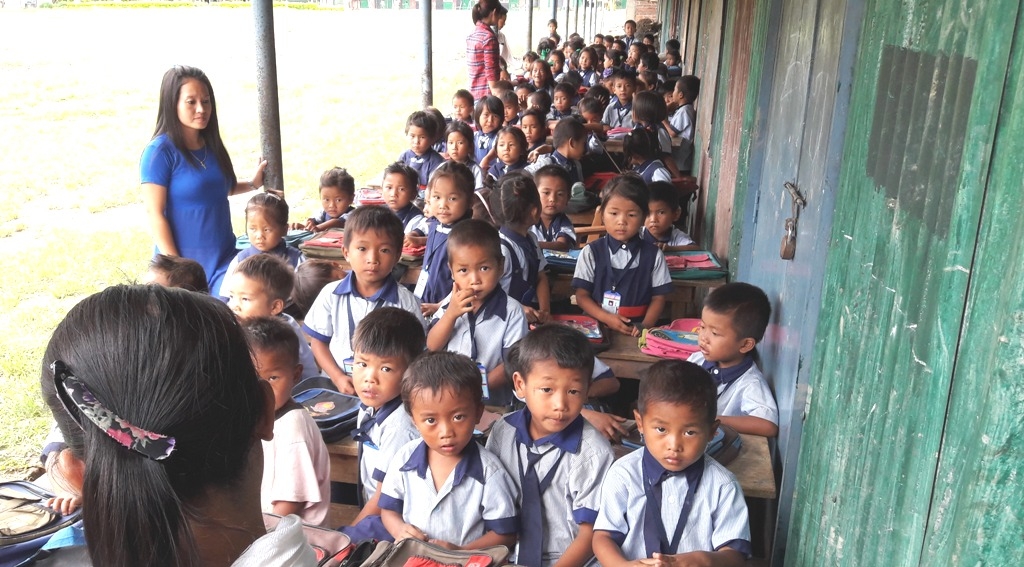 Chandel, July 23: Students of Sajik Tampak Government High School were facing acute problem
due to insufficient class rooms and some of them were accommodated at the Verandah of Assam Rifle's Store Room. The deplorable condition of the students came to light while a team of Kuki Student's Organisation (KSO) Chandel District led by President Doumang Haokip made an inspection at Sajik Tampak Government High School on Thursday. The students of Class I Section A, B and C of Sajik Tampak Government High School were accommodated outside the classroom and taking normal classes at the Store room's verandah occupied by the 21 Assam Rifles. Prior to
accommodating the students at the said verandah, the nearby Community Hall of Tuilelon Village was used as the classroom for the students. Moreover, the students and staff of the School also faced hardship due to unavailable of proper Toilet in the School campus. Interestingly, the school students and the Assam Rifles posted at Sajik Tampak shared the same campus and gate as the Assam Rifles occupied the School campus. And the store room of Assam Rifles which was used by school students was also lying adjacent to the School building. Speaking to media persons, Chandel District KSO's President Doumang Haokip told that it is in unfortunate to see young students of Sajik Tampak taking their classes at the verandah of Assam Rifles store rooms. The students of the School were facing a lot of problems owing to lack of school infrastructure including classrooms and Toilets, he added. While drawing immediate attention of the concern authority, Doumang Haokip also told the concern contractor who engaged in construction of class room extension to expedite the construction and to maintain quality.