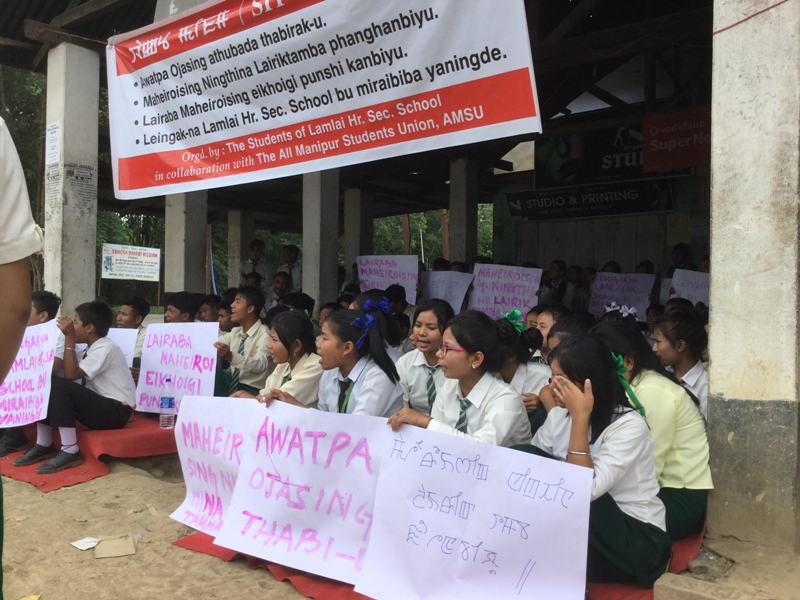 IT News
Imphal July 22,
Higher Secondary Students of Lamlai Higher Secondary learn and appear their exams without any teachers as the government fails to send Higher secondary teachers.
Irate students of the school along with volunteers of All Manipur Students Union today staged sit-in-protest at Pungdongbam Lamkhai decrying against the total lack of the teachers.
Speaking to media persons Irungbam Alfred, a student of the school said that the lack of teachers of the Higher Secondary classes makes them useless to go to school. Even though the school was upgraded to Higher Secondary in 2016 and the admission began from 2018 the students didn't have any teachers for them to teach since the inception of the Higher Secondary classes, he added.
Highlighting the lack of various other facilities he stressed that the students of Arts and Science students were all clubbed together in a single class. Moreover there are no laboratory equipments, no library facilities, desk and benches and also the toilet is in pitiful state, he added.
Alfred further said that the Education Minister as well as the Director has neglected the school for so long.
He urged the government to send the teachers at the earliest and also warned that if the government fails to sent it by the last week of July than they have no other option but to intensify protest.
President of Imphal East AMSU unit, Sanjoy Mangsatabam questioned the government about their School Fagathanshi Mission where Lamlai Higher secondary school doesn't have any teachers for higher secondary Classes since its inception. He also said that several assurances were given by Education Director many a times but the authorities didn't send any teachers till now which shows a complete negligence of the authorities.
He also warned that the authorities should send the teachers at the earliest and if they fail to send it by last week of July then they will intensify the agitations along with the students and the people. He also said that the government should hold responsible if any untoward incident took place.
Nongmeikapam Narendra who newly joined the school as the Principal from today questioned how the students of Class 12 will face their Council exam.  He stressed that the teachers cannot teach and complete the lessons at one go as teaching is a gradual process.
He further said that it was an irreparable loss for the students where they didn't have the facility to have their classes.
"Students coming to school to study but were let go without classes because of the lack of teacher is injustice to the students", he added.
Narendra further urged the government to send the teachers as soon as possible for the welfare of the students.