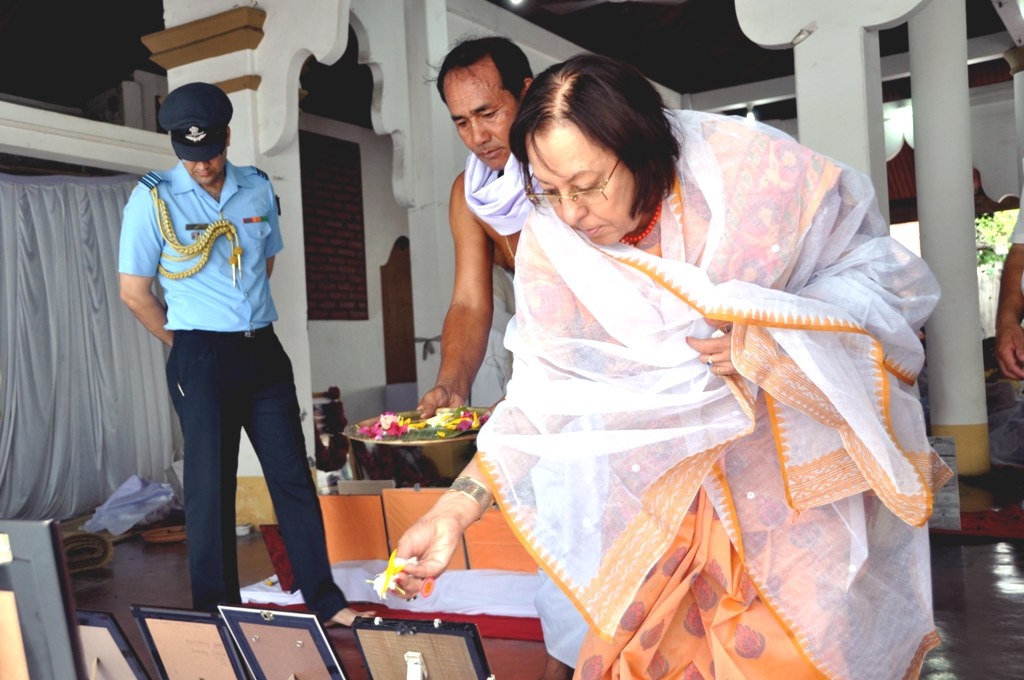 Imphal,  June 9:  The "Snan Jatra" of God Jagannath was carried out at Radha Madhav Temple ,Sanakhya Yaima Mandap, Moirangkhom today in the presence of Hon'ble Governor of Manipur Dr. Najma Heptulla.
Titular king Maharaja Leishemba Sanajaoba, M.U. Prof.R.K.Ranjan, son of (L)M.K.  Binodini & promoter of Huntre!Equine org.  ,Somi Roy, grandchildren & relatives of past Maharajas and members of the Jalakeli Pala took part in the Snan Jatra religious ritual.
The Governor along with others present in the auspicious ceremony   paid floral tributes to the photos of Maharaja Nara Singh, Maharaja Churachand & Maharaja Budhachandra.
After a wonderful religious song performance from the Jalakeli Pala, there was an utsab for all the invitees.
An award comprising of phanek mapannaiba, innaphi, a cash prize of Rs. 5000/ along with a certificate was given to the lead singer of Jalakeli Pala ,R.K. Mohinisana for her contribution to the growth & development of Jalakeli Pala that was founded by Maharaja Nara Singh.
It may be mentioned that a similar pala group titled Rasheshori Pala was founded by  Maharaja Budhachandra too.
As per historic records and religious tradition of the State, the "Snan Jatra" of God Jagannath is usually performed annually prior to the 10-day Kang festival to denote the status of holy awakening and purification of God Jagannath from His sleep so as to make  preparation  to participate in the coming Rath Jatra festival that will be held on the 25th of this month.