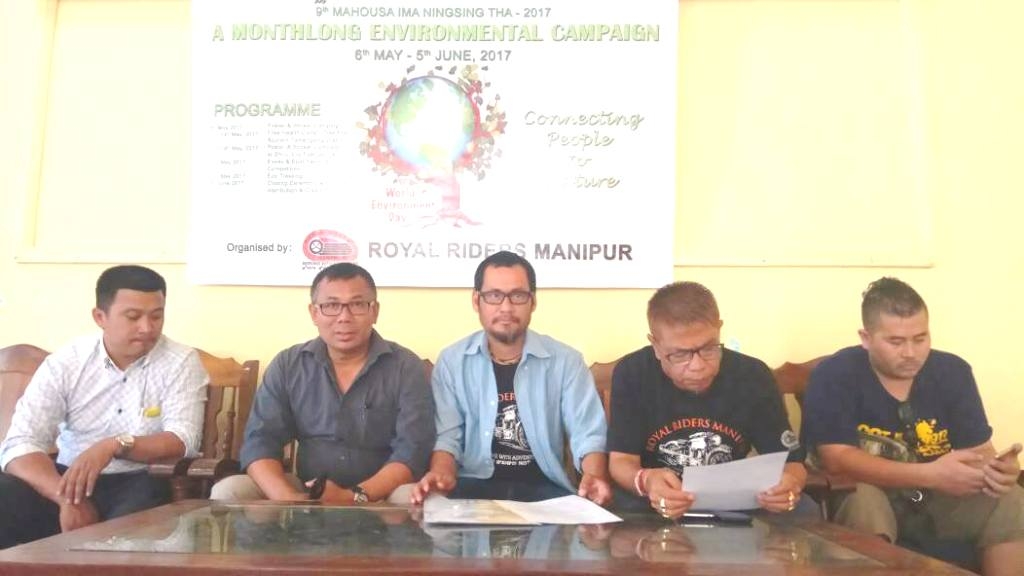 Imphal, May 5: As part of the month-long world environment day celebration, the 9th Mahousa Ima Ningsing Tha – 2017, a month-long environmental campaign organised by Royal Riders Manipur (RRM) under the theme, "connecting people to nature – keep your area green and clean, nurture nature, better environment; better tomorrow and save earth; save environment" will commence from May 6, 2017 to June 5, 2017.
Speaking to the media persons here today at Manipur Press Club, Majorkhul, Imphal, Jeet Saikhom, General Secretary of RRM said that the observance of Mahousa Ima Ningshing Tha has been observed since 2009 with the objective of safe guarding trees and forests for a better environment as per the theme of United Nations (UN).
A mass public awareness campaign along with free health camp, tree plantation, poster and sticker campaign, spot painting and essay competition, trekking for schools children along with the mass campaign on how harmful plastic bags are and how they can be avoided will be organised throughout the whole month of May as part of the environment day celebration, he added.
Jeet Saikhom, informed that the concluding function of the month-long environmental campaign will be held at the office of the Royal Riders Manipur situated at Game Village, Langol on June 5, 2017 along with prize distribution and green concert.
These campaign will be organised after a thorough discussion with the environmental experts and appealed to the people to extend support in such kind of campaign in future as well and set an example to future generation regarding the need for conserving environment, he added.