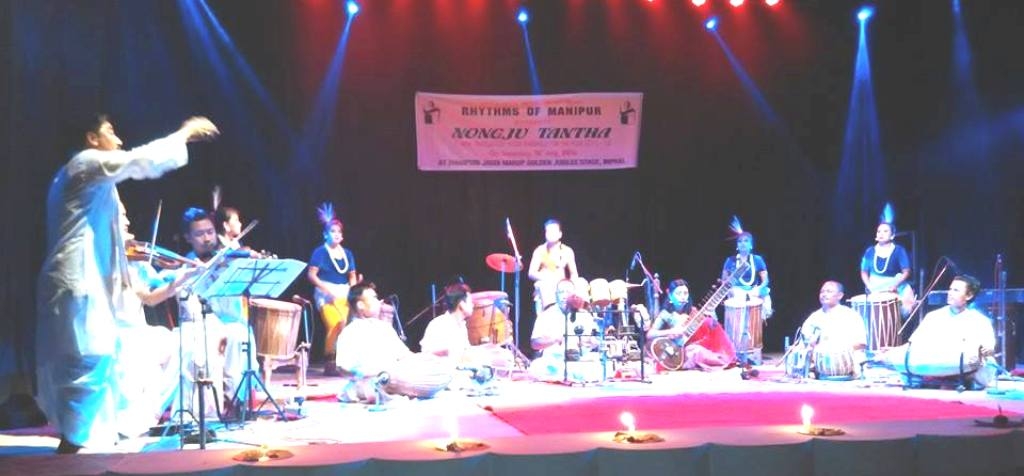 Imphal, July 17: Thirty one years old Rhythms of Manipur's new production- Nongju Tantha (Rhythmic Rain) showered yesterday in Imphal at Manipuri Jagoi Marup Golden Jubilee Stage, Lamboikhongnangkhong and the huge audience applauded the one hour musical performance.
The music ensemble directed by Haobam Nisheshwor Singh is a confluence of folk and ethnic music of Manipur, Hindustani classical Ragas and western classical music using traditional musical instruments like Langden, Meitei Pung, Pena, Toudri, Dhulok, Khol; Indian musical instruments like Sitar, Base Sanantara, Tabla and Western musical Instruments like Violin, Flute, Xylophone and Drum. The ensemble starts with the music based on nature, fast music, Indian classical music based on Raga Yaman, Manipuri folk music drum beatings, folk music including the tunes and beats of Lai Haraoba, Maibi Jagoi and Kabui Jagoi. Four lady drummers perform Langden Cholom with the dance in the footstep of Maibi Jagoi. The tune and beats of Holi also incorporate in the ensemble. It concludes with the musical beats  of Kang Chingba (Ratha Yatra). Special lighting effects designed by L. Madan  adds colour to the performance.
Born and brought up in a family of cultural background Haobam Nisheshwor Singh, grandson of Haobam Nganbi Devi, Padmashree Awardee is a young music composer and director who has a credit of over a half dozen music compositions and plays.
Established  July 10, 1985, Rhythms of Manipur is a professional Manipuri performing group specialising  in traditional as well as in fusion arts. An important centre for Manipuri music and theatre over the last thirty years, it has undertaken extensive concert tours in and around India besides performing in Singapore and Hong Kong on special invitation.
A formal function was organized to launch the new production with the Director of Information and Public Relations, Government of Manipur Meghachandra Kongbam as Chief Guest, the Director of J. N. Manipur Dance Academy L. Upendro Sharma as Guest of Honour and  Padmashree Awardee Guru S. Thanil Singh as President.