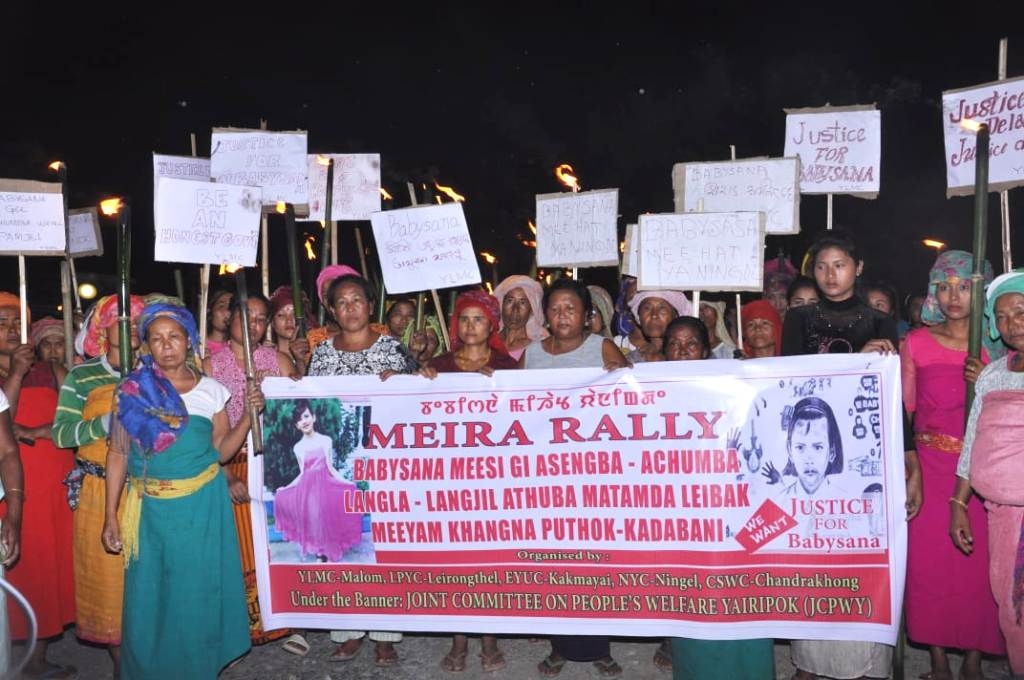 IT News
Imphal, Aug 23
With the passing of time, the momentum of protest demanding justice for Babysana, who was found dead in a mysterious condition at her hostel room at Standard Robarth School on the adjoining night of July 17 and 18, has slowed down, relay hunger strike and torch rally still continues at different part of the state.
Locals of Thangmeiband area continue to stage relay hunger strike today at Thangmeiband Lourembam Leikai. The relay hunger strike was attended by around 100 womenfolk of Hijam Dewan Leikai, Khomdram Selungba Leikai and Lourembam Purel leikai. The relay hunger strike began since Monday this week.
Yesterday the relay hunger strike was foiled by Police team, the irate locals and womenfolk of Thangmeiband Meisnam Leikai burned the effigies of Standard Robarth Hr Secondary School Principal Pheiroijam Landhoni and her daughter, Ph Romita (who is the coordinator of the school) at evening.
On the other hand, Joint Committee On People's Welfare Yairipok, an apex body of 9 clubs from Yairipok area also staged a torch rally at Yairipok in Thoubal district yesterday evening.
Members of Yaipha Lamjing Meira Club Malom , Eastern Youth Union Club Kakmayai , Ningel Youth Club , Chandrakhong Social Welfare Club and Horton Meira Paibi attended the torch rally. Slogans demanding justice for Babysana were shouted during the torch rally.